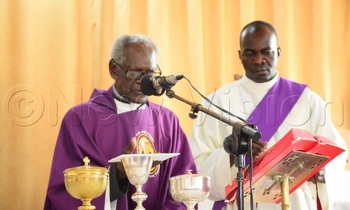 ASH WEDNESDAY
Don't behave like hypocrites who go showing off that they are fasting, rather do it for God's love, says 92-year old Msgr Joseph Mugambe, the assistant parish priest of Christ the King parish in Kampala.
Giving his sermon during mass on Ash Wednesday, Msgr. Mugambe told Christians that whatever they do, especially during the Lent season, should be for God's love. "Let everything you do appeal to God," he said.
He told Christians to avoid wasting time looking into other people's lives and comparing them. "Instead, compare yourself with Jesus Christ and how he did his things, that is the only way you can become holy. Ask God, chances are given to you to be a holy person," he said.
According to the clergyman, Christians ought not to make showbiz when going for prayers. "Don't ask anyone to come and see you when you are praying, pull your door and talk to God and don't let anything distract you and look into your life," he said.
He said lent is about forgiveness, love, and giving. "Give what you have to those in need, walk out to the poor and donate, that is what lent is all about," he explained.
He was assisted by Rev. Fr. Mathias Nteza, the youth chaplain and Rev. Deacon Mbusa Nyasio who studies at Gaba National Seminary.
Mbusa said Ash Wednesday was the commencement of the lent season and Christians are called to do three things, prayer, fasting, and alms-giving. "This is a period where Jesus Christ calls upon us for the change of heart and we can only this with the mercy of God," he said.