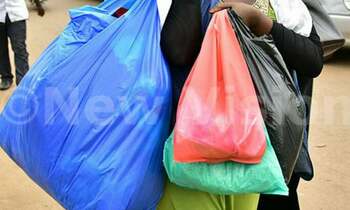 ENVIRONMENT
Reinstating the ban on polythene bags starts today the state minister for Environment Beatrice Anywar has disclosed.
"Today we are directing National Environment Management Authority (NEMA) to implement the ban on polythene bags with immediate effect,'' Anywar said on the sidelines of the Switch Africa Green Regional meeting at Speke Resort Munyonyo.
In 2018 Parliament passed the National Environment Bill, 2017 banning polythene bags below 30 microns following a recommendation from the Committee on Natural Resources.
Anywar advised the public to resort to using baskets while shopping in supermarkets and markets.
"We don't need plastics, we are moving towards a total ban of polythene bags,'' Anywar added.
In 2018 Civil Society Organisations (CSOs) under an umbrella Climate Action Network-Uganda (CAN-U) called for a total ban on the manufacture of plastic materials, especially polythene bags.
The CSOs also drafted proposals calling for the ban on the use, trade, manufacture, import and export of polythene bags in Uganda.
Anywar said; "Protect your environment and breathe fresh air. We need to switch to Green. Change your mindset and act green,''
It is estimated that polythene bags take years to decompose. The material used in their production cannot be decomposed by bacteria, they remain in the environment for years clogging landfills, polluting rivers and, causing harm to natural places and wildlife among others.
The Switch Africa Green programme was launched in 2013 and aimed at turning environmental challenges into opportunities based on the understanding that an inclusive green economy is at the core of sustainable development.
The two-day forum attracted various stakeholders from the Switch Africa Green partner countries including Uganda, Burkina Faso, Ethiopia, Ghana, Kenya, Mauritius and South Africa.
The programme also focuses on key enablers for the transition, including access to green financing, enabling policies and standards and skills on eco entrepreneurship among others.
Dr Tom Okurut,the executive director NEMA said Switch Africa Green programme has built a pool of resources, knowledge base and expertise within the three priority sectors: agriculture, manufacturing and tourism sectors.
"The transition to an inclusive green economy requires replication and scaling up on the cooperation and collaborations among sectors as well as creating synergies with emerging trends to achieve the Vision 2040 and NDP III objectives,'' Okurut said
He said tackling the emerging environmental challenges, may require seizing opportunities like an inclusive green economy that are core to sustainable development and have multiple benefits, for instance, environmental protection.