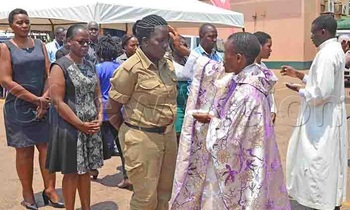 LENT CHRISTIANS
On Wedneday, Christians gathered in various churches to pray and mark the beginning of the Lenten season.
The Rev. Fr. Pius Male who is the Chancellor of Kampala Archdiocese, describes Lenten season as a period of six weeks (40 days excluding Sundays) leading to Easter.
For the Catholic community, the day is honoured as the Ash Wednesday; where Christians are smeared with ash on their fore heads.
Why ashes
The Rev. Fr. Anthony Musaala who is the assistant parish priest of Rubaga Cathedral, says smearing ashes on people's foreheads is biblically symbolic.
Musaala quickly refers to the book of Joel chapter 2; verse 13, where Prophet Joel calls upon people to repentance and change their ways.
He describes ashes as a symbol of human weakness, "our need for God and a sign that Christians are ready to enter into a period of repentance."
He explains that the ash is got from dried palm leaves, the same palm branches that are taken and blessed in Church to commemorate a triumphant entry of Jesus Christ into Jerusalem.
"So, a week before the Lenten season, Christians take back the same dried palms branches to church to be burnt in order to form ash, which is then smeared on people's foreheads to mark the beginning of lent season," he notes.
He adds; palms are a symbol of victory and when Jesus entered Jerusalem, people waved palms.
"So, in order to be victorious, we have to die to ourselves and that is why the palms are burnt as a symbol of dying to ourselves," he notes.
Additionally, Male notes that ashes symbolise the change of heart; hearts of stones; hardened hearts to be turned into hearts of flesh.
Male explains that the 40 days of lent are hinged on three major pillars which include; Prayer, fasting and alms giving so as to bring about the change of heart and mind.
"Lent period is a time to reflect on our behaviour to see if we are really still in the mission of Christ," Male notes.
He says during this time, "we are supposed to love one another, pray, fast and offer arms giving especially to the less privileged people; those who do not have and need help in the community," he notes.