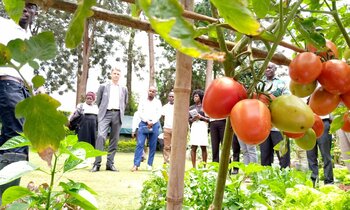 Crops at Male's farm. Photos by Patricia Turyaheebwa and Geoffrey Mutegeki
BEST FARMERS AGRICULTURE VISION GROUP

Vision Group, together with dfcu, KLM Royal Dutch Airlines, Koudijis and the Kingdom of Netherlands have launched the 7th edition of the Best Farmers competition at Avail Fruits Farm in Magere, Wakiso district.

According to Dorothy Muttu, the head of marketing and public relations, who represented Vision Group CEO Rober Kabushenga, the main intention of the Best Farmers competitions is to give a platform to different farmers across the country to be recognized and exposed to commercial farming.

"The competitions allow the farmers to allow verification of best practices and allows modern initiatives because for one to be a commercial farmer, you have to be modernized. It allows the exposure of farmers through importation and exportation of products," she said.
"Harvest Money Expo is today recognized as the best farming expo in East Africa," she added.

According to David Mukholi, Vision Group's Managing Editor, Vision Group will be taking 14 best farmers to the Netherlands for a study tour.

Henk Jan Bakker, the Ambassador of the Netherlands in Uganda, said they are strongly looking for farmers who do farming on a small piece of land.

"As the Embassy, this time around, we are looking up to farmers who have been able to do farming on a small piece of land and they have been able to make genuine money from it," Bakker said.

Joseph Male, one of the winners of best farmers for 2019 does commercial urban farming on a 4-acre piece of land and has been able to export his produce.

"Doing urban farming on a small piece of land has made me special from other farmers and I have managed to train other farmers who have the idea of farming but have small pieces of land," Male said.

"There is a way Vision Group has rebranded farming through media and this has made many of us forget the traditional methods of farming. It has led to the birth of demonstration farms that helps farmers to share knowledge and skills about farming," Male said.

He grows different species of tomatoes, onions, cabbages, spinach eggplants, as well as keeping livestock.