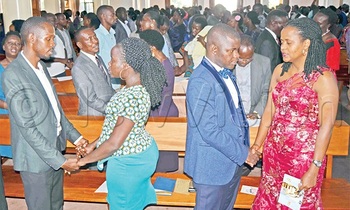 St Francis Chapel at Makerere University in Kampala is a place of lovely memories for the alumni that associate with it. But the chapel has a category of Christians whose connection to it is extraordinarily deep: Couples that were wedded in it.
Although they belong to different generations and are currently based in different parts of the world, the Franciscan couples connect and inspire each other through their association, St Francis Marrieds Fellowship, which currently has 28 branches in various parts of the country, including Kasese and Gulu districts.
In 2013, the marrieds of the chapel began a tradition of holding an annual get-together and thanksgiving function at the chapel.
The eighth edition of the function took place at the chapel at the beginning of this month. It was a massive and beautiful event, which attracted many couples. Action started with a thanksgiving service presided over by the Chaplain, the Rev. Onesimus Asiimwe, who was in a happy mood, seeing his chapel fill up with the couples.
The worship team of pioneer choristers, led by the people's warden, organist Peter Mwesigwa, added colour to the function with their beautiful praise and worship melodies.
The chapel's affiliate drama group also entertained the couples with a skit, which was richly packaged with interesting marriage-oriented message, which were educative and spiritually enriching.
HIGHLIGHTS
At the start of the service, the team leader of St Francis Marrieds Fellowship, Titus Bitebekezi (who was in the company of his wife Gloria and members of the team), welcomed the couples and encouraged them to remain committed to the ministry, owing to its immense benefits.
He said the marriage institution had many challenges, which was why it was necessary for the married couples of St Francis Chapel to have a fellowship ministry where they can be strengthened.
"In every marriage, there are joys and sorrows, highs and lows. If you feel your marriage is challenged, if you are going through hell, please do not die alone. Come to the fellowship for help. We are here to support and strengthen you. Truly, we all have weak points.
Attending fellowship is one of the building blocks in marital life. In the fellowship, you will find people to talk to," he said.
THE ANGUBUA TESTIMONY
Bitebekezi's remarks were substantiated in clearer terms by the testimony of Sylvia and Peter Angubua, who have lived together in holy matrimony for 21 years.
Sylvia, who said she had spent more time with Peter than her parents, acknowledged that her marriage was not without serious challenges.
"My husband Peter and I have had problems, blessings and prosperity. Both of us have been in hospital with serious illnesses. Sometimes we have been in need. For seven years both my parents have been bed-ridden. So, we have
lived it all. But by the grace of God, we have faithfully lived through our marriage vows.
In times of joy, sorrow and need, we have remained committed to our marriage, which is for life. We have continued to serve God in all situations," she said.
"Peter has been committed to me. He has been my genuine friend in all situations. When I went to hospital to deliver my first child, my mother came to be with me, but he told her that caring for me was his business, not her's," she added.
"Owing to his deep commitment to the marriage vows he took, he even disregarded the cultural restrictions and went to the hospital wards to nurse my parents, feeding and even washing them! Peter and I study the Bible together. We encourage each other in faith. Peter has been supportive to me. When I had just married him, I had only one degree, Today, I have two Masters and a PhD."
Peter also testified: "When I was struck by cancer in 2005, I shared the problem with uncle Ben Mugarura and uncle Kyobe, who prayed for me and assured me the illness would go.
I also remember well how I brought back to them the good news of my total recovery after receiving treatment in South Africa. "So, I have experienced the power of being in St Francis Marrieds Fellowship. We thank Uncle Ben and brother Kyobe for laying the foundation of the ministry. We have come here to thank God for the two decades of our marriage. Fellowship has helped us to walk the talk, to walk solidly with God in our marriage."
WANTAATE'S HOMILY
The function would probably not have been all that colourful without the homily of Pastor Fred Wantaate, who emphasised the need for friendship in marriage. According to Wantaate, it is possible for spouses to love, but not like each other. "In marriage, your closest friend should be your spouse.
When friendship dies, marriage starts to crumble. Spouses can be forced to love each other by covenant, requirement of the law, or by request of the Church! Being a friend is the tremendous honour you can give to somebody; it is the highest relationship of human beings."
Wantaate emphasised the need to balance sexual love, selfless love and filial love in marriage, saying: "All the kinds of love must be at play in marriage. It must be the full package, as opposed to partial package. Each supplements the other."
Using the practical example of knives, which become sharper as they interact with each other, Wantaate advised spouses to cultivate a culture of dialogue.
"It is useful for spouses to interact. Speak to each other openly, truthfully and honestly. Communication is a tool of sanctification. It makes us more like Christ.
We have a lot in our hearts. So, we need to speak out. Challenge each other to honour God, to be a child of Jesus. Hold your spouse to be accountable," he said.
"Learn to respect each other. Encourage each other to be like Christ. Tell each other to keep the marriage vows. Learn to be a man or woman of your word. Learn to repent. Live up to the Bible. Be truthful and supportive to each other. Talk about your dreams," Wantaate added.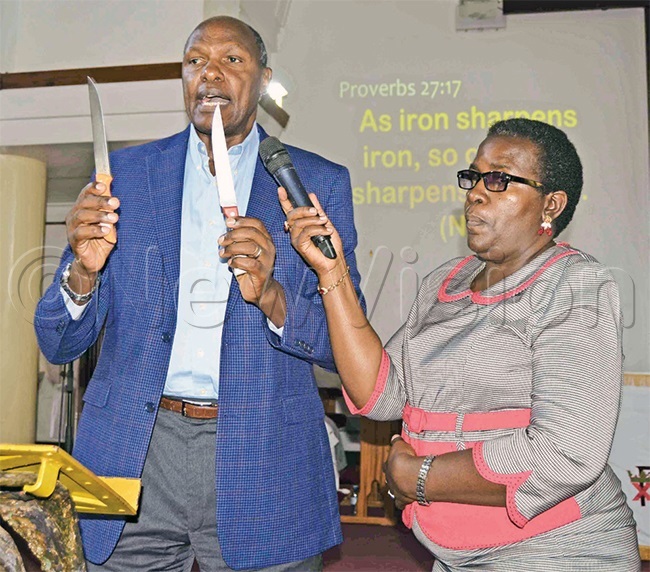 Wantaate delivering a demonstrative homily on marital interaction during the marrieds fellowship
COMMUNICATION BOOK
In order to show the power of communication, Wantaate distributed a booklet to the couples and asked them to discuss and answer the questions in the booklet.
Some of the questions (in the book) that the spouses put to each other include Where do you see yourself in 10 years from now? How can you better support the children? Are you happy with their discipline? How can we safeguard our children from the negative influence of social media? Do you have financial
transparency? What are your financial goals in the next fi ve years? How do we improve our prayer life? Are we sharing the prayer altar? Are we both committed to the local church? How are we using our gifts to serve God? Are we communicating with each other? Is our sexual life fine?
RENEWAL OF VOWS
The event's most exciting moment was evidently the renewal of marital vows. Spouses recommitted themselves to each other and sealed their recommitment by placing a ring on each other's finger. The function climaxed with a cocktail in the chapel gardens.
Throughout the function, the Rev. Can. Ben Mugarura (Uncle Ben), his wife Joy, Stanley Kyobe and his wife Norah received praise for bearing the vision of the ministry of St Francis Marrieds Fellowship, which has helped the member couples to walk right in their marriage.