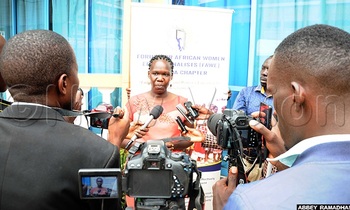 SEXUALITY EDUCATION

KAMPALA - As the education ministry prepares to roll out the new O'level curriculum this coming academic year, the Forum for African Women Educationalists (FAWE), has urged the government to pass the Schools Health Policy (SHP) to help address health challenges contributing to high school dropouts.

The SHP includes information on issues such as HIV/Aids, sanitation and hygiene, safety and medication and offers information about where to seek help. It was developed by the education ministry in partnership with the health sector in 2001.

Launching a report on sexuality education in sub-Saharan Africa, last week at Africana Hotel, Jackline Nafuna, a project officer at FAWE, noted that government should pass the SHP to equip school-going children with vital information to value their health and guard against early pregnancies.

"Right now we do not have the school health policy that is why we have so many early pregnancies. Young people have diverse sexual reproductive health needs and it is important to address these needs before they become sexually active with age-appropriate information," said Jackeline Nafuna, a project officer at FAWE.

Nafuna also noted that the SHP involve information about sexuality education which is vital because 64% of girls and 68% of boys are sexually active, so access to sexual and reproductive health information through age-appropriate sexuality education is vital.

Suzan Opoko Tumisime, the FAWE executive director, says young people have different sexual reproductive health needs and it is important to address these needs before they become sexually active.

"Sexuality education is essential in equipping young people with information about their sexuality to enable them make healthy choices. With the knowledge, it prevents the frequency of sex and prevention from HIV and STDs," Opoko said.

During the launch, officials from the Education and health ministry all agreed that now is the time to integrate sexuality education in Ugandan education.

"These days' parents have no time for their children not because they want but because they are looking for money. So the mothers leave the children with house helps, no one to talk to them but if there is an integration of sexuality in our curriculum, children will grow up knowing how to handle themselves and also know all the myths," said Dr Dina Nakiganda, the Assistant Commissioner Adolescent health at the Ministry of health.

Dr Nakiganda also noted the majority of today's youth are having sex but do not have sufficient information or knowledge about sex to protect themselves from negative sexual and reproductive health outcomes like HIV infection or unintended pregnancy. School will be a good avenue to teach them about sexuality.

In 2018, the education ministry introduced the first-ever National Sexuality Education Framework (NSEF) with the objective of creating an overarching national direction for providing sexuality education in the formal education setting for young people specific to Uganda's context.

Sexuality education has been a controversial issue in Uganda over the past years. In 2016, the Ministry of Gender, Labour and Social development banned comprehensive sexuality education in schools.

The ministry's ban came after the discovery of sexual reproductive health books in more than 100 schools that included 'sexual orientation and a non-negative portrayal of masturbation.'

During the meeting, different stakeholders suggested that musicians should be involved to influence the passing of the current health policy given their high social influence in society.