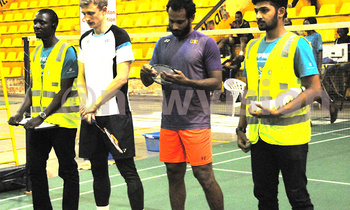 International Badminton players picked points at the Uganda International and immediately traveled to Nairobi for another event due this weekend.
Sixty-five players from 34 countries were in Kampala over the weekend for the 16th Uganda International Badminton Tournament at Lugogo Indoor Arena.
Uganda featured 99 players who all lost in their first matches in the men and women singles apart from Davies Ssenono who beat fellow Ugandan Kenneth Mwambu, but lost in the second round to Nigerian A. Opeyori in the round of 16.
In the men's category, Hungarian Gergely Krausz beat Niluka Karunaratne of Sri Lanka 2-1 to claim the event.
Niluka was looking to win Uganda International for the second time having won the event in 2016.
In the women's category, Thet Htar Thuzar from Myanmar defended the title she won last year when she beat Aakarshi Kashyap of India 2-1.
Gergely Krausz of Hungary
Players from India took the show when they beat Nigeria and Peru in the men and women doubles respectively. Players from India also dominated in the mixed doubles.
Ugandan player, Brian Kasirye who started the event as seed number one said it was the experience in the number of tournaments played and the type of shuttles that cost the Ugandans.
He said the feather shuttlecocks played at the tournament are a rare commodity to Ugandans as they are used to plastic ones.
The foreign players did not only bag the points to better their chances for the Tokyo 2020 Olympics, but also the cash.
Winners in the single games won USD 1,200 each and 2,500 World Badminton Federation (WBF) match points.