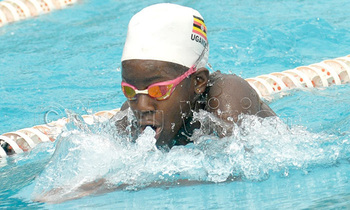 CANA ZONE IV CHAMPIONSHIPS

Uganda Sports Press Association USPA Swimmer of the Year Kirabo Namutebi bagged silver in the 50m breaststroke as she set the pace for Uganda at the CANA Zone IV Championships in Botswana on Friday.

Kirabo clocked 34.40 seconds to finish second behind Mauritius' Alicia Kok Shun, who won with 34.22.

Zimbabwe's Van der Westhuizen came in third with a time of 34.51.

Swimming in the masters' class (45+ years category), former Uganda Swimming Federation president and National Council of Sports Chairman Donald Rukare was also good for bronze on the first day of the championship, clocking 46.83 in the 50m breast below gold and silver winners Owen Caple and Lawrence Gachala.

It was a tough opening day for the rest of Team Uganda swimmers, with Mary Grace Banona clocking 12:12.74 in the 800m freestyle race, behind eventual winner South Africa's Emma Beyers, who returned 10:10.3 minutes.

It was the same for Zaabu Kyabayinze, who made 11.12.92 over the same distance in the men 14 & under category, where Namibia's Oliver Ohm picked gold after clocking 9:46.48.

In the women 12 & under category 50m breaststroke race, Uganda's Amelia Mudanye, 11, could afford 6th place after falling to older opponents; Muslun Alina, Chang Ji-eun and Ariana Naukosho from Mauritius, Botswana and Namibia who won gold, silver and bronze, respectively.

Avice Meya (1:16.23), swimming in the women 17 & over 100m backstroke category was also good for fourth out of 11 in a race dominated by Namibia's Stergiadis Heleni and Vicky Botha, who won gold and silver in 1:08.60 and 1:11.86, respectively.

Other Ugandans, namely, Tendo Mukalazi, Ben Kaganda, Rahman Nakasule, Ethani Ssengooba, and Peterson, Inhensiko, Nannete Nsereko, Daniel Nuwagaba, Natalie Lutalo,Michelle Sine, Raphael Musoke, Daudi Ochieng and Shane Birungi will be looking to better their performances over the next few days.