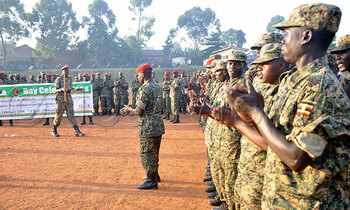 CELEBRATIONS UPDF

KAMPALA -The Uganda People's Defence Forces (UPDF) will hold its 10th annual Tarehe Sita Thanksgiving on Saturday, crowning a month of activities to commemorate its birth.

The thanksgiving follows the February 6 Tarehe Sita anniversary held in the Great Luwero region at Butalango in Nakaseke district.

Tarehe Sita, which means the 'sixth day of the month' in Kiswahili, commemorates the daring attack on Kabamba barracks by the National Resistance Army (NRA) rebels in Mubende district on February 6, 1981.

The attack is relived through Tarehe Sita day, held every year to honour the courage of fighters who took part in the war that ushered the National Resistance Movement into power.

The celebrations involve a series of community activities held by the UPDF to pay tribute to public support for the bush war.

This year's celebrations were held under the theme, Consolidating the UPDF strategic partnership with the people to guard gains of liberation.

The Chief of Defence Forces, Gen David Muhoozi, says this year's thanksgiving will pay tribute to the army's strategic partnership with the people of Uganda, which has helped to safeguard peace.

"Special focus will be on children of both our living and departed comrades, under the theme: '…Take up your son,' drawn from 2 Kings 4:36," Muhoozi stated.