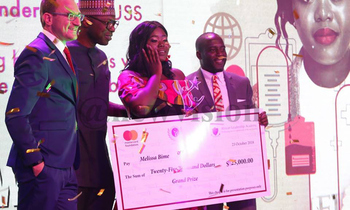 ENTREPRENEURSHIP
Young Ugandan entrepreneurs aged 22 years or younger have a chance to vie for the 2020 Anzisha Prize that recognizes young people with inspiring business ideas.
A total of 20 finalists will compete for the grand prize $25,000 (sh91m), with $15,000 (sh54.5m) the First runner-up, and the Second runner-up $12,500 (sh45.4m).
Each of the finalists will receive $2,500 (sh9m) and fellows will receive business consulting support and coaching services by a team of industry experts.
The prize is open to very young African entrepreneurs who have founded or co-founded a running business in any sector on the continent.
Young African entrepreneurs between the ages of 15-22 years old, who are running job generative businesses, are encouraged to apply before March 31, 2020.
Last year, two Ugandan girls-Saudah Birungi and Catherine Nalukwago-made it to the shortlist for the 2019 Anzisha Prize.
Saudah co-founded Tusafishe, an enterprise that builds water filters using locally available materials for rural schools and communities to provide them with safe drinking water
Nalukwago co-founded Vertical and Micro Gardening, an enterprise behind The Vertical Farm, which champions for urban farming for low-income households.
One of the past winners is Andrew Mupuya, a Ugandan who won the Anzisha grand prize of $30,000 (about sh110m) in 2012 for nurturing a business idea he hatched when he was just 16.
Mupuya, who started out with seed capital of sh36,000, has built a lucrative business with the sale of paper bags to retail shops, supermarkets, hospitals and major local flour manufacturers.
The Anzisha Prize is an African Leadership Academy and Mastercard Foundation partnership, which has been running for the last ten years.
Announcing this year's prize, Melissa Mbazo-Ekpenyong, Deputy Director of the Anzisha Prize, said the prize has helped to unlock some of the continent's brightest and youngest entrepreneurs.
"With the help of key partners and those who share in our vision, we've been able to support and celebrate very young entrepreneurs who represent the diversity of the African continent; entrepreneurs who tackle youth unemployment with vigour and courage beyond their years," she says.