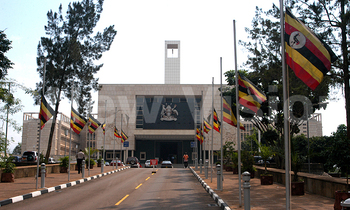 Suspected gunshots have been heard in Parliament during an afternoon session.

During the session, two gunshots were heard after which two people were dragged out by officers attached to the office of the Sergeant at Arms.

Chaos ensued as the Speaker struggled to calm the MPs who were visibly in panic as nobody seemed to know the source of the gunshots.

However, Speaker Rebecca Kadaga said nothing much about the shooting, insisting that MPs continue with the day's business and leave the issue to the Sergeant at Arms.

Even when MP Cecilia Ogwal tried to bring the issue back, the Speaker insisted on the day's business.

"We are not intimidated," says Speaker Rebecca Kadaga as gunshots are heard inside Parliament chambers during an afternoon session." Asks the house to proceed.