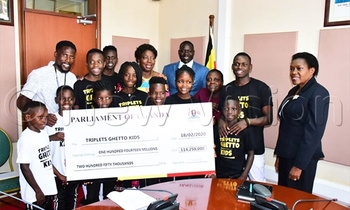 GHETTO KIDS
DEBT
PARLIAMENT
The Ghetto Kids, who were on the verge of losing their house, have reason to smile after Members of Parliament contributed and cleared the debt owed to the landlord.

It took 400 MPs to each contribute sh250,000 to have the debt cleared. The issue came up during their Christmas party on December 20, 2019, when the Speaker Rebecca Kadaga asked them to raised sh100,000.
The money was the balance on the house purchased by the young performers. It is both their residence and training place.
In 2018, the Ghetto Kids purchased a multi-million house in Makindye, but according to there manager Teacher Kavuma Dauda, the youngsters were about to lose their house in a short time.
The owners of the house (Picture by Timothy Murungi)
Dauda had earlier revealed that they were about to be evicted after the deadline to pay the full amount passed.
They deposited sh180m and were left with a balance of sh112m. The landlord had given them up to November last year to clear the debt or get out of the house.