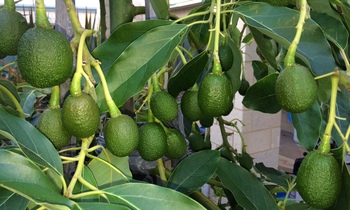 HARVEST MONEY FARMING
Avocado is a delicacy that has many benefits, but a few farmers are growing it for money.
However, at the Harvest Money expo of 2020, a new variety of avocado has been showcased.
The Hass avocado variety, which is a new crop that is promoted by Musubi farm, a private agricultural enterprise located at the shores of Lake Victoria in Bukabooli sub county, Mayuge district in eastern Uganda.
Abubakar Ssengendo, the Director in charge of marketing and communication at Musubi farm, says they are implementing the Hass avocado value chain development project with a core mandate of supporting the Ugandan avocado industry by championing the supply of grafted quality avocado seedling, commercially viable growing of the crop and value addition for the export market.
According to Ssengendo, their mother farm is on approximately 2,500 acres of land where large-scale cultivation of various horticulture crops and the production, distribution and processing of avocado seedlings is done.
The farm employs more than 100 technical staffs, with 850 casual employees supporting farm activities each year.
"Ensuring that Ugandan farmers have sustainable and reliable access to high quality avocado seedlings forms the solid foundation for Musubi farm, and guarantees quality fruits that will feed into the proposed avocado oil processing plant being set-up by the farm," Ssengendo says.
According to Ssengendo, a processing plant is being set in place with the aim of producing avocado oil and other products for local and international market. This will guarantee available markets for the avocado.
He said they are also facilitating the establishment of a national avocado grower's association to ensure quality of produce, and common market access.
"We expect a lazy farmer to yield about 100 fruits in year three, where harvest begins. Production increases as the tree grows older. It doubles in year four, to give 200 fruits doubling in year five to give 400 fruits per tree," said Ssengendo.
According to Ssengendo, they intend to buy the small sized fruit (size 32) from the laziest farmer at only sh100, assuming all your fruits are this poor.
"Year three will give you 100 x 100 (10, 000) fruits per tree, which will come to 1.6million per acre and the year four you will get 3.2 m. the production continues for up to 50 years. If you look after your tree properly, the yield increases, the fruit size increases, and the money certainly gets better," he emphasized.
Currently, Mexico is the world's largest producer of avocado and has 348, 000 planted, from which they produce 2.5 million tons annually.
However, Uganda with over 17million acres of arable land needs just 500, 000 acres of cultivator to write its name in the world book of records as the biggest producer of the fruit in the world.
"For this noble cause, Musubi farm has decided to take up the mantle and lead this green revolution to deliver our dear country into the league of such productiveagribusiness enterprise," Ssengendo said.