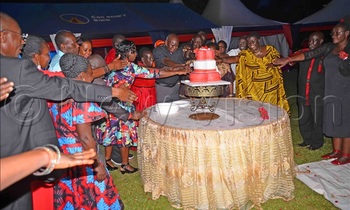 RELATIONSHIP RELIGION

KAMPALA - In an attempt to enable her members to celebrate love and marriage in the authentic Christian way, the Catholic Church on Friday organised Valentine's party at Bishop Hanlon Gardens, Nsambya, to commemorate St. Valentine's Day.

The function was organised by Holy Cross Family Ministry, an affiliate organisation of the Catholic Congregation of Holy Cross that promotes Christian marriage and the family.

The function started with a thanksgiving mass presided over by Fr. Herman Zziwa, who encouraged Christian spouses to exercise the marital principles of mutual love, faithfulness, and companionship.

The Director of Holy Cross Family Ministries in East Africa, Fr. Leonard Olobo encouraged spouses to cultivate a culture of prayer in their families.



The function was graced by many couples. The spouses renewed their marital commitments and also gifted each other. The function climaxed with a dinner dance.