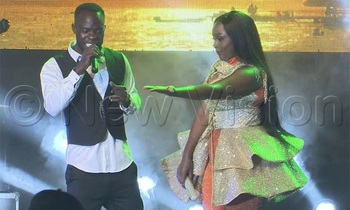 ENTERTAINMENT

KAMPALA - The long-awaited Rema concert finally happened. It began with hundreds of fans arriving as early as 4 pm to witness their diva's performance.
The gates opened at exactly 6 pm alongside tight security at Hotel Africana's People space.

Revellers from all walks of life attended ranging from couples, singles, young, old, fellow musicians to government officials illustrating her diverse fan base.

Guests took selfies, danced to the slow music that was playing as some resorted to drinking and their phones for company before the main act took the stage.

The mood continued to be gay until the MC of the night announced the opening of the concert. Rema's dancers dressed in orange and red jumpsuits came through moments before she appeared on stage.

Rema surprised her fans who expected her to make the grand entry through the main entrance when she descended from the roof singing one of her hit songs Fire Tonight.

All was well until singer Chris Evans Kaweesi, who is closely associated with Rema's ex-lover Eddy Kenzo aka Semyekozo was invited by Rema to sing their collabo Linda.
Chris Evans, whilst performing the collaboration song with Rema chose to replace the verse with words praising Eddy Kenzo.

Rema wasn't pleased with Evan's actions in the presence of her newlywed husband Dr. Hamza Ssebunya and she forced him off the stage. He asked for forgiveness but in vain as Rema refused to sing along.
Realizing that Rema was serious, Chris Evans left the stage amidst booing from the fans.