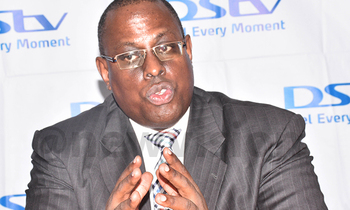 Donald Rukare. PHOTO: Johnson Were
Uganda Swimming Federation president Donald Rukare has been appointed as the new chairperson of the National Council of Sports. He replaces outgoing Bosco Onyik.

The appointment was announced by State Minister for Sports Hamson Obua during the flagging off of the National Boxing team the "Bombers" on Friday at the Council offices in Lugogo.

"On the February 6, the term of a chairman and members of National Council of sports expired. As required by law, I now communicate to you the appointment of a new chairperson and members on the new board for a period of two years," Obua said.

"I am pleased to appointment Donald Rukare as the new chairperson along with other members."

The new board has seen only three members return. They are Zubair Galiwango, Agatha Namirembe and Cecilia Anyakoit.

The new board members are Agatha Namirembe, Cecilia Anyakoit, Zubair Galiwango, Mark Ssali, Grace Abalo, Andrew Otengo, Stephen Asiimwe, Paul Luswata.