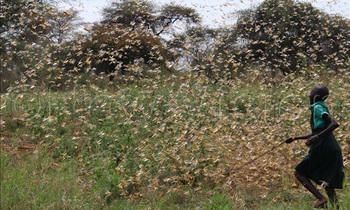 ENVIRONMENT LOCUSTS

Two big swarms have landed in Uganda from neighbouring Kenya sparking off fears that this could be the beginning of the destruction in Uganda.

The desert locusts invaded Uganda from Kenya on Sunday 9th through Amudat but they have become elusive. They do not settle in one place as they have not been encountered in one place for more than a day except in Katakwi where they disappeared on the third day.

Dr. John Bahana, a consultant on locusts said swarms from larger breeding grounds in Somalia were still pouring into Kenya. He also said more swarms were expected from Kenya to invade Uganda.

Bhana described the swarms currently in Uganda as part of the advance party that was dispersed into Uganda by winds ahead of the bigger swarms.

The swarms in Uganda are also yellow in colour, which is a sign that they are aged and about to hit life expectancy of six months. He also said the swarms in Uganda currently were scattering their eggs in a desperate attempt to breed but they have not landed on favourable sandy patches.

This, according to Bahana, has put the desert locusts so far to a big disadvantage but it is still too early to celebrate. The desert locusts could still encounter the favourable sandy patches that favour hatching of their eggs.

"The desert locusts elongate their abdomen by six times the size of their body into the sandy patches and place their eggs in the sand," said Bahana, adding that they place 100 eggs in each sack they produce.

He explained that the locusts that have been encountered in Katakwi are only "scattering eggs". He said the locusts have not run out of luck and could also deposit (eggs) in patches of sandy soils in Karamoja sub-region.

He also pointed out that most of the locusts that invaded Uganda are thought to have traveled in swarms of between 20,000 and 30,000 (locusts). The swarms that hit Uganda on Wednesday evening covered a stretch of at least one kilometer.

Bahana described the swarms currently in Uganda as small swarms. He also called them strugglers that split from larger population thought to be in Kenya. The strugglers are also yellow and they are thought to be in the evening of their lives. The life expectancy of locusts is six months.

A large swarm of locusts would have as many as 50 million desert locusts, according to Bahana.

Bahana said that although the locusts have not yet arrived in large swarms, they represent a major threat because many could still be in transit.

Do not spray

Bahana has also warned farmers and Local Government against any attempts to spray against the desert locusts which have been sighted in a couple of districts in northeastern Uganda. He said spraying of pests like the desert locusts is the responsibility of Central Government and not Local Government.

He said the spraying contingent comprising armed forces led by 2,000 UPDF has been trained and equipped with protective gear. He said the forces are already on ground in northeastern Uganda and that the pesticides are being kept in a central place.

Spray hoppers

Bahana said it is not ideal to spray pesticides over an area where locusts settled to destroy their eggs because that is not effective. He said it is not environmentally friendly to spray chemicals over an area on assumption that the pesticides would kill hoppers as they come out of eggs. "You have to wait for hoppers to come out and spray them. That gives you an idea of what you are targeting and the amount of pesticides to be applied," he added.

Expensive for one country to control

Bahana said controlling locusts is very expensive for any single country. "The president the other day said we could buy our own spray planes but an individual country would find it very expensive to undertake spray operations. In Uganda, we need to be careful otherwise the machine would be idle," he added.

He also pointed out that a plane needs a pilot and an engineer to operate. "What if the locusts do not come after 10 years?" he wondered.

He also said countries in Eastern Africa including Uganda have to make annual contributions of $120,000 every year to the Desert Locust Control Organisation. He said this is cheaper for countries to intervene collectively.

Climate change, insecurity fuel outbreak

The expert explained that locusts have been building up in the breeding grounds in the Sahara desert and that the buildup has been facilitated by unusually high rainfall and insecurity in Somalia.

"When that happens they breed massively and fly out," he added, "There were locusts in Kenya about 20 or 30 years ago. The populations have been coming out but may have not have come out in large amounts," said Bahana.

Bahana also said the officials of the Desert Locust Control Organisation set up by East African Countries in 1962 have been monitoring and disrupting the desert locusts. This has helped them to prevent outbreaks. However, the insecurity in Somalia worked in favour of the locusts.

"Nobody would dare to fly a plane in parts of Somalia because terrorist would shoot it done," he said, adding that this is the reason why officials of the Desert Locusts Control Organisation stayed away.

Desert locusts edible

Desert locusts, being relatives of grasshoppers, can be eaten but they have got a very hard skin. "Because of the high-fat content you get fed up quickly and they can cause constipation," he added.

Bahana stated that it is virtually impossible to trap locusts and convert them into animal foods because of their flying speed and the terrain in some parts is not favourable. He also said this would also not cause tangible solution to counter the invasion by the locusts.

Do not eat dead locusts

He said the recommended pesticides were going to be applied and that they disintegrate in a short time. He also warned the population from picking dead locusts and eating them.

About the fears that birds and small mammals could eat the desert locusts and then pass the poison to humans who eat the wild game, Bahana said, "There is nothing we can do about animals and birds that may eat them and of course that is not good."

Three species of locusts

Apart from the desert locusts, there are two other troublesome species of locusts in Africa, according to Bahana. He named them as the red locusts and the African migratory locusts.

The breeding grounds for red locusts are found, in among others, Tanzania, Zambia and Malawi. The desert locusts, which have invaded Uganda from Kenya, are said to have their breeding grounds in a large part of the Sahara desert, Middle East, Pakistan and India.

"The same locusts are now in India and Pakistan. The major causes of locusts invasions are heavy rains and the insecurity in Somalia. Because no one could access Somalia, the locusts have been breeding up there and have now attacked," Bahana stated.

Drones not effective for in spraying

Dr. John Bahana, a consultant advising Government on desert locusts dismissed deployment of drones in spraying operations in the fight against desert locusts. He said they were not effective and that they can only be useful when it comes to sighting of the locusts and monitoring.

"Instead of using helicopters, we can use the drones to locate the locusts before spraying," said Bahana, adding that drones carry only 10 liters of pesticides which he described as very little.

Kingdom Rice, an international agro-company also with operations within Uganda said they were testing two drones to establish their effectiveness in spraying the dreaded desert locusts.

According to Muhammed Ahmed Bawazir, the Chief Executive Officer of Kingdom Rice, they have offered up to 10 drones to Government efforts to fight the desert locusts.

History

Bahana, who has researched about locusts widely, said Uganda was invaded by three varieties of (locusts) - African migratory, red and desert - into the late 1940s and early 1950s. The African migratory locust, he added, have their breeding grounds in, among others, Nigeria, Mali and Chad. Although there is no written record, several people believe that swarms of locusts perished in Lake Mwitanzige, also known as Lake Albert in western Uganda. The lake was named Mwitanzige (killer of locusts) after locusts perished in it.

Locusts in Kitgum

The Minister of Water and Environment, Beatrice Anywar Atim expressed worry on the invasion by the desert locusts currently reported to be in Orom Sub-county in Kitgum.

"It is a worry whenever they land, having leaves on trees all eaten up," she said. "That is why as government, we had to come together in the inter-ministerial committee on locusts to limit this epidemic from spreading".

Anywar said, while the epidemic was still in Kenya, Government invested human resource, which were participating on the grounds, and approved funding as Cabinet to help in fighting the outbreak, but unfortunately it has already invaded Uganda.

Anywar continued to say that, the public together with the government should not only put emphasis on the areas where locusts invade, but also consider the impact on food security, which will affect the whole country.

According to Anywar, the ministry in its effort to protect the environment has considered the effects on the areas where they have already sprayed, with the chemicals having no harmful effects on human life, as assured by experts.

"With no knowledge of how far the locusts will spread, the ministry calls upon collaborative means of getting rid of the locusts. The president is very categorical about this, and has made sure that all efforts be made in order to make sure to spread of locusts in Uganda," she said.

Anywar was speaking at Hotel Africana in Kampala after launching the report on Collaborative Forest Management.