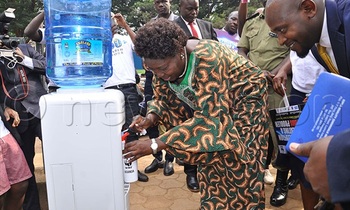 ENVIRONMENT POLLUTION
Ugandan agencies charged with the protection of the environment have been asked to conduct country-based studies on plastic and generate information that will help the government in policy formulation and decision making.
The call was made by Rebecca Kadaga, the Speaker of the Parliament while flagging off the Earth Hour march against plastic pollution, on Thursday at the Constitution Square, Kampala. The match was organised by World Wildlife Fund an organization leading in wildlife conservation and endangered species in partnership with Plan international, KCCA among others.
Kadaga said plastic pollution has become one of the most pressing environmental issues in Uganda and globally this is because there is less or no information to highlight the challenges of plastic on both human and environment.
She revealed that after the information is gathered, it is the only entry point to policy formulation.
"Once policies are put in place, it will be made easy to act. As we wait for the data, everyone must be at the forefront to fight plastic usage in the country. Let us do away with a single use of plastics and carry a water bottle to keep refilling as opposed to buying plastic bottles of water whenever you are thirsty," Kadaga said.
Kadaga said parliament passed the national environment bill, 2017 banning polythene bags below 30 microns, but the action has not been taken seriously.
"As the speaker, I want to commit to greater consideration of issues of plastic pollution and its implications in policies and legislation," she said.
According to environmental- CSO network, 2018, currently, Uganda consumes over 600 tonnes of plastics per day and most of them are disposed of irresponsibly. Because they take longer to decompose (over 400 years), plastics are creating long term problems that go beyond 16 generations.
World Health Organisation (WHO) globally, 91% of plastics are not recycled and are just found within the ecosystem. Poor disposal such as open burning has led to air pollution, contributing to climate change and 2.3million deaths due to outdoor air pollution.
Beatrice Anywar, Minister of State for Environment said Ugandan should be more worried because plastics are getting into the agricultural sector, which is the country's backbone.
According to Anywar, plastics clog the water systems and reduce aeration in soils, hence reducing agricultural productivity. The plastics are also affecting livestock whereby, over 60% of the cattle die due to consumption of plastic bags.
"Every year, an estimated 40 thousand metric tons of plastic enter our wetlands. Plastics take hundreds of years to degrade, and it is detrimental to wildlife in ways we are only just beginning to understand," Anywar said.
David Duli - WWF Country Coordinator said every year, WWF in Uganda together with the ministry of water and environment joins businesses, government and other institutions all over the world to commemorate Earth Hour, a campaign aimed at mobilising the world populations to take collective actions for nature conservation.
Duli advised that Uganda should repair the fundamentally broken system of plastic production, consumption and waste management. "It is projected that by 2050, the total amount of plastic waste in our wetlands will weigh more than all the fish, and other marine life," he said.
Emilly Kukundakwe, project coordinator "Our cities 2030," said more than half of the plastics used are disposed of in and around Kampala.
At least 51% of plastic garbage in the city is left uncollected. Plastic waste is the major cause of clogging sewage systems in the city.