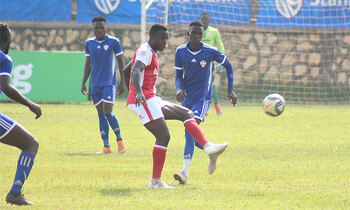 STANBIC UGANDA CUP ROUND OF 32
Wednesday results
Express 3 (3) Maroons 3 (4)URA 8 Nyamityobora 3
______________________________
KAMPALA -
Express will go trophyless this season after being knocked out of the Uganda Cup by Maroons.
The 10-time Cup winners bowed out of the competition 3-4 via a decisive penalty shootout at Kavumba Recreation Centre on Wednesday.
In an eventful tie, Frank Kalanda gave hosts Express the lead five minutes into the game, but Steven Mukwala brought Maroons back to level terms fives minutes later.
From then on, it was to and fro traffic as both sides pushed for a second goal. The two goalkeepers had a busy early evening, often being drawn into vital clearances.
It was Maroons, however, who created more scoring opportunities and were only undone by the lack of bite in front of goal.
Before Maxwell Okello's goal in the 39th minute for Maroons, forwards Fred Amaku and Abraham Tusubira could have rattled the next but Express goalkeeper Tony Kyemera was found in no mood for any slip-ups.
On the other end, Disan Galiwango and Frank Sseyondo too had chances for Express but Hannington Ssebwalunyo snuffed out their threat.
Wasswa Bbosa, currently on a second coaching spell at Express, saw his lads return with the sort of industry required to claw back into a cup tie. And they did. Five minutes into the second half, Erick Kambale scored from a free kick to make it 2-2.
On the hour mark, Mukwala restored the visitors' lead with his brace after Galiwango's failure to clear the danger.
And when it appeared like it was game over for Express, they got a lifeline at the death when an unlucky Patrick Bayiga handled the ball in the box.
Galiwango stepped up to take the penalty and made no mistake.
With the end of regular time at 3-3, a penalty shootout would be the decider on who moves on and who stays behind.
Mukwala, Tusubira, Edgar Bwogi and David Nahabwe each converted their penalty while Patrick Bayiga's effort was saved by Kyamera.
Frank Ssenyondo, Mohammed Yiga and Daniel Shabena buried their shots for Express while Galiwango and Baker Lukooya missed theirs.
After eliminating his former club Express, coach Douglas Bamweyana said Maroons were the better side throughout the game.
He was however, disappointed with his defence for conceding cheap goals and to his strikers for not converting the many chances created.
"We still have a problem of conceding cheap goals, our forwards too are not clinical, we create chances but don't convert them," said Bamweyana.
In the late stages of the game, play was briefly halted due to fan violence. Security was brought in to deal with the brief melee.
Meanwhile, in Ndejje, Sam Ssimbwa's URA whitewashed Nyamityobora 8-3 to cruise to the next round.