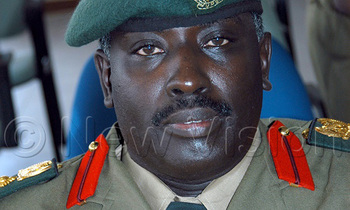 BIRAARO DEATH CAMPAIGNS
While on a campaign trail in 2016 in Jinja, the late Maj. Gen. Benon Biraaro pledged to rebuild and plan for major historical sites in the Busoga Kingdom to boost the tourism sector in the area.
Biraaro breathed his last on Wednesday morning at Kololo Hospital after succumbing to colon cancer.

Biraaro who stood on the ticket of the Farmer Party Union (FPU) noted that Busoga region had the most tourism sites of importance in the country that have remained undeveloped.

Biraaro noted of major historical sites in Busoga region especially Jinja, Luuka and Buyende districts have to be re-planned with the help of the Uganda Tourism Board and have to be mapped so that they are easily recognised on the world structures.

He noted some of the sites such as the Kyabazinga's lake, the Kintu cultural tombs, and Kagulu hills have to be recognized.
Biraaro casting his vote in February 2016

"Busoga is a region that has to be well planned and that has alot of tourist attraction sites to promote and I pledge that once am elected into power this will be the base to promote cultural tourism, for the modernity of the area," he noted.

Biraaro promised to provide a special fund for tourism so the region is promoted, saying the region needs alot of attention so that it's cultural institutions are revived.

He also promised to promote agriculture, saying agriculture was the back borne of the country on which most people have to base.

"Once we have an agriculturally stable country, our economy will be sorted," he noted.

He also promised to build a school of public service and integrity in the Kidepo National Game Park to fight corruption.

"Once I build a school of integrity in the park, most people will be careful," he noted.