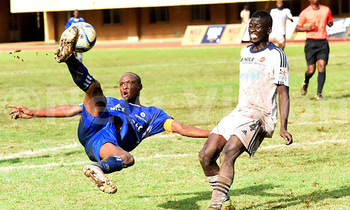 UNIVERSITY FOOTBALL LEAGUE

The groups

Group A : (Kabale, MUST, UNIK, Kyambogo)
Group B : (IUIU, Kumi, UCU, KIU)
Group C : (IUEA, Busitema, Kampala, Nkozi)
Group D : (Bishop Stuart, SLAU, MUBS, YMCA)
Group E : (Muni, Gulu, Nkumba, Bugema)

_____________________________


The ninth edition of the University Football League kicks off Wednesday, with new entrants set to make their debut this season - University of Kisubi, Muni, IUIU and Kabale University. New Vision Sport takes a look at brief profiles of the 2020 teams:


Uganda Christian University

The reigning champions wrote their own history among the elite when they won their first-ever championship last year after edging St Lawrence University 2-1. Captained by their custodian and the 2019 MVP Derrick Were, the UCU Cardinals have come in with the favorites' tag. An opening fixture at home against Islamic University in Uganda (UIU) kickstarts the Mukono giant's campaign as they gun for back-to-back championships.

St Lawrence University

Last season, St. Lawrence came within touching distance of the title, but lost to UCU in the final. Now in their fourth year in the competition, SLAU have managed to reach two semifinals and a final. A very vibrant squad in both attack and defense, they will be keen to making it all the way to the crown this this time round. Focus and precision in front of goal will be key.

Bugema University

A tactically gifted side both in front and at the back, Bugema settled for third place the last time out. But they are not done yet. With the 2019 UFL coach of the season Meddie Nyanzi at the helm, Bugema will be looking to capitalize on this, coupled with "Messi" Isaac Musiima's attacking ability as a morale boost. The university is also currently constructing a modern sports facility to improve on fitness levels as well as leave no room for error when they try to achieve their target.

Uganda Martyrs University Nkozi

UMU have not tasted title uccess since they last won it back in 2017. A season marred by a match-fixing scandal and multiple injuries last year saw them eliminated by finalists SLAU in the semifinal. They were condemned to a fourth place finish after squandering a two-goal advantage against Bugema to lose 4-3 on penalties in the third-place playoff. Despite their last upsetting performance, UMU cannot be written off, as they, too, remain firm favourites to claim the top honors.


Makerere University Business School

The Nakawa-based side went mum after winning back-to-back titles in 2014 and 2015. Their road to the 2019 title ended at the quarter-finals after being knocked out by SLAU. MUBS last reached the final in 2017, but could not contain UMU. Since then, it has been a silent pursuit for the business school side.

Kampala University

The two-time champions have had a dip in performance over the recent years. Although they have not lived to their pedigree of winning, Kampala University cannot be brushed off quite easily.

Kyambogo University

Kyambogo went as far as the quarter-finals last year after clinching their first and only championship in 2018. Last season, they walked away with only anaccolade for best sports tutor, George Wagogo. This time, they will be looking out for bigger fish.

Mbarara University of Science and Technology

MUST return for this year's competition after serving a one-year suspension for failing to honour their last three fixtures in the 2018 edition.

Kampala International Universty

The Kansanga-based side have remained as participants and not contenders over the past few seasons. They have not posed much of a threat so far but in the game of football, no opponent can be underestimated.

International University of East Africa

IUEA made their first appearance in the league last year - and their inexperience showed. They went winless throughout the ompetition. In the early stages of the season, Dorian Ntambi was sacked and replaced by Pius Ngabo, a managerial switch that did not yield the desired results. Will lessons learnt reflect better performances this time round?

Young Men's Christian Association

YMCA have carried some measure of theat over time, most recently reaching the quarter finals against St Lawrence last year. Can they take it a notch higher this time?

Nkumba University

Their best highlight came when they reached the final in 2016, despite losing to Kampala University. They also reached the semifinal in 2017 but had to settle for third-best after they lost to eventual champions UMU. In the third-place playoff, Nkumba defeated Gulu University to clinch bronze. Nkumba also previously held an impressive record of not losing a group stage fixture between 2014 and 2018. It was, however, Busitema that put an end to this incredible run.


Bishop Stuart University

Their induction season in 2017 is one Bishop Stuart will want to forget after they were handed a humbling 7-0 thrashing by UMU.

Busitema University

Busitema are a very good side away from home. They are, however, best known for helping UCU rise above their quarterfinal cloud when they lost 9-1 on aggregate. UCU advanced to the semifinals for the very first time and eventually emerged champions.

Kumi University

Kumi have not raised eyebrows in the league. They have consistently participated but have not yet shown any spark. Could this be their defining season?

Gulu University

Over the years, Gulu have put up a spirited fight but have hardly had a serious impact on the tournament. Their best campaign came in 2017 when they finished fourth, their best-ever finish in the competition. In 2018, they had three points deducted from them for fielding an illegible player. Their run in this tournament has been anything but impressive.

New entrants

The University of Kisubi, Muni, IUIU and Kabale University are making their debut in this year's championship. This will be their first time in the showpiece and a chance to prove their quality. What remains to their advantage is their unknown ability to the rest of their opponents. This trio are one to watch.



ALSO RELATED TO THIS STORY

Tasty duels expected in newlook university league

University football: IUIU eye revenge against UCU