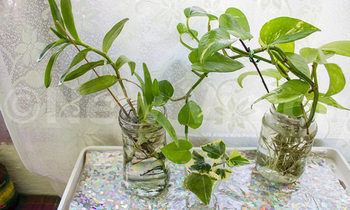 LIFESTYLE
It is that time of the year, when florists pack off all other flowers and leave only red roses for display. Roses are synonymous with love and passion.
And lovers do not only offer roses but all sorts of gifts that are wrapped in polythene bags. Everyone everywhere will struggle to impress their loved ones in one way or another.
However, as we try to enjoy the most of this day, there is a lot of pollution, due to the chemical applied on roses. The cut-throat flower industry is a short-cycle production process that requires the extensive use of agrochemicals or pesticides which have a negative effect on the air, soil and water supply.
David Duli, the Country Director - World Wide Fund (WWF) says overusing pesticides secrete into soils and groundwater which ends up in our drinking water. He adds that the sprays also end up drifting and polluting the air which affects both environment and health. Duli explains that while there are rules to curb the use of highly toxic agrochemicals, flowers are not edible crops and they are exempt from regulations on pesticide residues.
Roses aside, world statistics indicate that celebrating love with chocolate, greeting cards, and jewelry often wrapped in polythene bags leaves a wake of environmental destruction that is not so romantic.

According to Hallmark Channel an American pay television cable channel, 141 million greeting cards are bought ahead of Valentine's Day. Unsurprisingly, most of them end up in dustbins, which leads to more wasted energy and pollution, even if they are recycled.
While there are some greeting card manufacturers using recycled paper, there are other environmentally damaging manufacturing practices often used to make paper greeting cards, such as toxic printer inks and fixing agents.
Duli says that while some people claim that they keep greeting cards for special memories, most times, there is no space for them on the tables and closets. "A few days after Valentine's Day, your once beautiful card will find itself in dustbins and drainage channels, leading to more pollution. The solution is not to stop celebrating Valentine's Day. Let green replace the red and let us make it a green Valentine," he says.
Rita Samanya Kyategeka, fundraising, partnership and Communications Manager- WWF says choosing to go green is a more earth and environmentally -friendly route which makes a statement about love for each other and the planet you call home.
She suggests that lovers can chose to give each other potted organic plants which are fresh. She said that cut flowers will smell lovely and look beautiful and will really make you feel special. However, they have a very short shelf life. If on Valentine's Day you give that special person a potted plant, it will stay forever.
"The fresh plant will possess all of the elegance and tenderness of Valentine's Day flowers and even more. Like any worthwhile relationship, a potted plant requires some work. Giving someone a potted plant obligates a gift recipient to take care of a living, breathing thing," Kyategeka said.
She revealed that a potted flower will require watering, check-ups, and at some point, it will require re-potting it. "All these make a potted plant the perfect gift."
According to Duli, planting a tree and naming it after your lover can be another option.
He suggests that you plant an ornamental or fruit tree in your compound and name it after your lover. Every other Valentine's Day, you will look at this tree and celebrate how much your love has grown. "If you are not ready for a tree or you have nowhere to plant it, you can opt for a plant. And, if you still want to see beautiful flowers, visit a botanical garden together," he suggests.
Another option is cooking at home. Duli says this is not popular for the ladies since many of them may want to get a special treat. However, there is nothing more romantic than making a meal together at home in your own kitchen. "Not only is cooking a meal at home better for economic purposes, but it is also better for the environment because it will mean less food waste," he suggests.
Duli also says that lights too can be turned off. After all, it is Valentine's Day, so why not conserve energy and add some romance by dimming the lights a bit.
According to Kyategeka, lovers can gift each other an experience. Instead of gifting 'things', why not gift experiences, opt for an escape short break for two, a forest and nature walk among others.
Duli advises lovers to show their love by gifting each other an item that will not pollute the environment.
"Remember that a polluted environment is a health risk to your loved one. Guarantee good health by planting a tree together, taking a nature walk or gifting them with a potted plant to keep the environment around them fresh," he said.