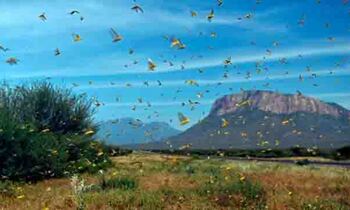 LOCUSTS INVASION DISASTER

KAMPALA - Swarms of the loathsome desert locusts from Kenya have hit parts of Amudat in northeastern Uganda.

According to Moses Kizige, the Minister of Karamoja Affairs in the Office of the Prime Minister, the desert locusts were first sighted in two sub-counties of Loroo and Kalita in Amudat.

At a press conference, Dr Ruhakana Rugunda, the Prime Minister said that by evening the swarms were spreading to Nabilatuk and Nakapiripirit.

Rugunda assured the nation that the technical team was on alert and ready to handle the invasion. The Prime Minister said a team of 2,000 UPDF officers were leading from the frontline to combat the invading swarms of desert locusts.

He said they were going to use manual and motorized sprays on the ground to spray the locusts. This, according to Rugunda is expected on Monday. The ground team will be supported by aerial spraying by planes.

The team of armed forces on the ground also includes the Uganda Wildlife Authority and Uganda Prisons.

Apart from spraying, the armed forces were going to be engaged in mobilization and mapping of the areas invaded by the desert locusts.

Two Ministers, Bright Rwamirama and Musa Echweru were in Nairobi, Kenya to negotiate for procurement of planes for spraying the desert locusts.

Rugunda also said the Government has cleared the $3m arrears to the Desert Locust Control Organisation for eastern Africa. He also said President Yoweri Museveni had met officials of the organization in Addis Ababa.


On Sunday, Museveni attended the 34th Extra-ordinary summit of the assembly of IGAD Heads of State and government that took place at the sidelines of this year's annual African Union Summit at the AU headquarters in Addis Ababa, Ethiopia.

The agenda included assessment of national and collective regional responses to the locust invasion and the leveraging of international political and financial support to address the emergency.

Sources at the closed-door meeting reported IGAD leaders are concerned about the speed and scale with which the locust invasion is affecting the IGAD Member States and the adverse impact it has on food security in the region.

According to the UN's Food and Agriculture Organisation (FAO), the Horn of Africa has been hit by the worst invasion of desert locusts in 25 years posing an unprecedented threat to food security in the entire sub-region, where more than 19 million people in East Africa are already experiencing a high degree of food insecurity.