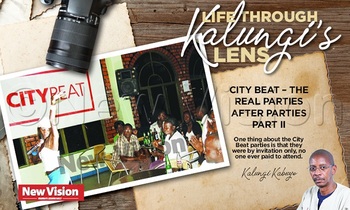 ENTERTAINMENT

KAMPALA - Which was the best City Beat party to top them all? It is difficult to say, each one had its special and unique factor and problems. Like when we had Phina Mugerwa at the Spot After bar in Ntinda, one of many we had there. After she greeted the fans that had gathered to meet her, many with a hug, a fan asked her if she had felt any 'masanyalaze' from the hugs.

Without hesitation, she pointed out Hillary 'Dr. Love' Bainemugisha, and everyone had a good laugh at that. And then the girl fans tried to show they could dance better than her.

Juliana Kanyomozi is one of the most popular musicians in the country, but she is not easy to meet. For example, for all the years that Silk Plugged existed, she was the only one that never put in an appearance. So when word went out that we were organising a City Beat party with Juliana, my phone went off the hook with people asking to be included on the guest list.



One thing about the City Beat parties is that they were by invitation only, no one ever paid to attend. We had an arrangement with Club beer, the sponsors, who would give a certain number of crates for each party. We would convert some of the crates into food, and the rest were given out to the guests as free drinks. So basically, guests would eat and drink for free, while getting personal with their favourite artist, who would perform for them. It really was party after party, and I think we contributed a great deal in making Club the top-selling beer of that period.
City Beat with Girl Groups, Silk Royale, March 2011

The parties also gave many upcoming artists much-needed exposure, and they were grateful for it. In 2010, for example, Keko was largely unknown. But when the City Beat Party with Hip Hop artists took place in Silk Royale, she shined, and never looked back after that. And we first saw Sheeba Karungi as a replacement member of the Obsessions at Pa Lui.

We tried as much as possible to rotate the parties in different venues, to give little known places some exposure. So we had Mesach Ssemakula's party at the Sky Hotel in Naalya, before it became a fully-fledged hotel. We had the Ngoni party at a now closed café near Crane Chambers, but the Indian owner wanted to have a cut on the crates of beers from Club, and asked the staff to stop serving the guests. So we went to the fridges, picked the beers ourselves and served the guests. Of course we never went back there, and the bad reviews could have had a hand in its closure.


The City Beat girls, Kyadondo Rugby Club, 2011
We had the first party with Bobi Wine at another now-closed pub on Crested Towers, but it turned out they had no sound equipment. So Bobi Wine and Nubian Lee just did a capellas, which turned out to be quite memorable.

We were supposed to have the party with Maurice Kirya at Silk Royale, but when we went for an inspection, he declared that it had no soul, and so we shifted to Pa Lui. In fact, Pa Lui would become our favourite place, it was very easy to work with owner Patrick Lubowa, even if the workers never got anything right, and we had to set things up every time we went there.



The second time we went to Spot After, this time with Bebe Cool, the manager also wanted a cut of some of the crates. We had to call Shem Ssemambo of Nile Breweries to put the fear of God into them, and they released the crates. And then Bebe Cool demanded that we save a few of the crates for his crew.
City Beat All Stars Party, Guvnor, 2009

Then there were the never-ending corkage battles with Steven Kavuma and Club Silk, but we always had a good time afterward.

And at every party, we had a prize for the best letter published in the magazine, and MTN would give out airtime worth sh100,000. Even today, that would go a long way.

My best party of them all? Must have been the one with Juliana at Pa Lui. She performed and made people cry tears, and some went into a frenzy of ecstasy. Unfortunately, those photographs were lost when thieves took off with one of my external drives.

The City Beat magazine played a large part in the growth of the entertainment industry in Uganda, but unfortunately, Ugandan advertisers have never understood the magazines market, so in August 2011, it shut down. Shall we pour a libation to the ghost of a magazine before its time?


Comedians: Anne Kansiime and Pablo doing their thing


Anne Kansiime and Pablo Kimuli, City Beat party with comedians, Club Silk, September 2010

RELATED STORIES