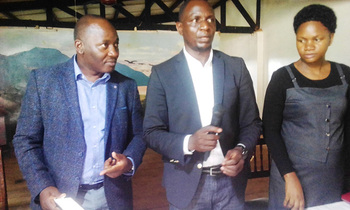 PARTY ELECTIONS

MASAKA - Drama within the troubled Democratic Party(DP) has continued to unfold after two rivaling factions conducted parallel grassroots elections in the Greater Masaka region.

A rift erupted within the DP Party in Masaka when the National Party Vice President, Fred Mukasa Mbidde declared his intentions to uproot the Masaka Municipality MP, Mathias Mpuga(DP) in the 2021 elections.
Mbidde who doubles as the East African Legislative Assembly MP said Masaka district DP Chairman Mpuga was politically weak.

The conflict between Mbidde and Mpuga has divided DP supporters in Masaka who earlier engaged in running battles on two occasions during the DP reunion event and the party conference at Bwala social centre.

The national party organising secretary Sulaiman Kidandala was forced to pitch camp in Masaka on February 6 to conduct fresh grassroots elections.

Kidandala who was accompanied by the Masaka Municipality MP, Mathias Mpuga nullified the earlier elections conducted by the Masaka district party executive committee led by Mbidde.

He said the elections conducted by Mbidde's leadership in Masaka used electoral materials outside his office. "I recalled the party registers and electoral materials because they were dispatched without my consent," he said.

Kidandala noted that he was forced to take charge of the Masaka elections because the district leadership was compromised.

However, Mbidde asked DP supporters and leaders in Masaka to disregard Kidandala and his communications.

"We wish to inform the general public that DP has not scrapped or cancelled its leadership renewal programmes as announced in the media, the party is still following its 2019/20 road map," Mbidde said adding that in case of any changes, the party will release a formal media statement.

The Mbidde leadership in Masaka had conduct party elections at the parish levels and 400 villages in Masaka district concluded their grassroots polls.

However, Masaka DP MPs led Mpuga (Masaka Municipality), Florence Namayanja (Bukoto East) and Gonzaga Ssewungu(Kalungu West MP,) united against Mbidde and are mobilising for his exit from Masaka.

Kindandala said they had received several petitions and complaints from particularly Masaka, Mukono, Wakiso, and parts of Kampala relating to the irregularities in electoral materials delivery and road maps.

He said new registers and electoral materials with security marks will be delivered to the respective party branches through the district branch committees.

Kindandala also noted that the electoral process will be completed by February 7.

A police source attached to the election desk in Masaka said the conflicting statements from the Masaka district DP branch and the national party headquarters authorities had left the police in confusion.