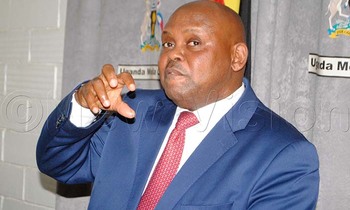 ENVIRONMENT SANITATION

KAMPALA - Is your compound bushy? Is your house not painted? Did you know that you could be fined sh2m or even go to jail for that?

Isaac Musumba, the minister of state for urban development has warned the public that under the new Physical Planning Amendment Act, Government is ready to bite offenders.

"It shall be an offence to litter," Musumba said on Tuesday.

"Every person in Uganda is now under obligation to refrain from littering or dropping rubbish outside the litter bins. On conviction, the offender will be subject to a fine of up to sh2m or imprisonment for a period not exceeding one year or both," Musumba, added.

The new law, which President Yoweri Museveni assented to on January 20, contains a number of radical reforms, which Musumba says, have been designed to weed out unplanned urban development that has resulted in unwanted cluttered growth.

With the urbanisation rate tilting towards 5.2% annually, Musumba told journalists at the Uganda Media Centre (UMC) yesterday, that any unplanned building will be demolished at the expense of the developer.

"In enforcing compliance in physical planning, under the new law, the Physical Planning Board now has powers to direct or cause the demolition of any structures illegally constructed in a road reserve or a planned area without compensation and at the cost of the developer across the country," he said.

The new law makes it mandatory for every person to procure a litter bin and place it at the entrance of their homes, paint the exterior of their houses, pave the front porch of their houses or business premises and clearly place a signpost with their name engraved on their plot of house gate or face jail.

"The law makes it mandatory for every premises to have a litter bin or garbage bin. It is an offence which upon conviction will attract a fine of up to sh2m or imprisonment not exceeding one year or both. People found of throwing rubbish out moving vehicle or sugar cane loaders who leave sugar cane leaves heaped in the road, or vendors who leave pineapple peelings heaped all over are all subject to fines under the law," Musumba said.

The minister added that it is also an offence not to cut grass at your house compound.

"Every house must have its exterior painted regularly. It is now an offence to have one's house look untidy and dirty. It is an offence if one does not paint their premises regularly. It is also an offence not to slash the green patch at one's premises. This offence attracts a fine of sh2m or imprisonment not exceeding one year or both. If there is a green compound at your premises, it should be regularly slashed," he added.

According to the law, failure by Local Governments to consider physical planning as a priority is also punishable by withdrawing or retention of funds to such a district.

Enforcement

The enforcement of the new measures, Musumba said, will be implemented by parish and sub-county chiefs, who are now tasked to inspect houses for compliance with the law requirements.

"At the front of business premises, the owner must provide pavers and maintain cleanliness. It is an offence not to do so. Owners of premises must place a sign with street and plot name on the plot as prescribed by the local Government," Musumba said, adding that contravening the above requirements, calls for sh960,000 fine or imprisonment not exceeding two years.

Asked to explain how the law will be implemented, Musumba said, the Physical Planning Board will work with the local governments, to ensure that "housing developments are painted, paved, greened, have litter bins, road and named plot numbers etc".

"The implementation of these measures has been by law placed in the hands of the parish and sub-county chiefs to support the planners. These local chiefs are now agents of the Physical Planning Board and are to ensure support in the implementation of these new measures," he said.

In 2017, the Kampala Capital City Authority (KCCA), developed a set of guidelines to name roads in Kampala in order to ease location and navigation under what City Hall described as a greater "transformation agenda" of the city.

Asked whether the long arm of the law will be extended to slum dwellers around the city and beyond, Musumba said: "It will act on everybody who owns a house whether in a slum or not. I have seen it working in other countries, it can work in this country, and by the way, it will work in this country. It is not for pro-urban only, physical planning is for the entire country."