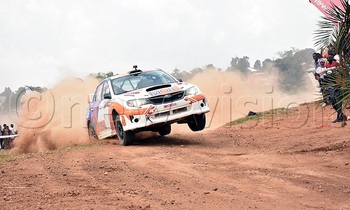 EAST AFRICAN RALLY CHAMPIONSHIP

The schedule

Kenya (February 8-9)

Rwanda (May 16-17)

Uganda (August 15-16)

Tanzania (September 19-20)

Burundi (October 17-18)

The 2019 and 2017 National rally champions Yasin Nasser and Christakis Fitidis, respectively, are taking the fight to Kenya in the Guru Nanak rally on Saturday and Sunday.

The event kicks off the Kenya National Rally Championship calendar and will also be the first round of the newly created East Africa Rally Championship.

All the Kenyan top crews, including Carl Tundo, Karan Patel, Eric Bengi, Onkar Rai and Ian Duncan, have confirmed participation.

"We are ready for the challenge ahead but we are focused to better last year's performance in the Kenya Safari Rally," said Yasin.

Navigated by Ali Katumba in a Subaru Impreza GVB, Yasin is a familiar face in Kenya and last year in the Safari Rally, he was Uganda's best-performing driver. He finished ninth overall and he is aiming for an improved performance this time round.


Fitidis, navigated by Eric Nzamwita in a Mitsubishi Evo10, is another Ugandan who is targeting top honours.

The other events of the East Africa Rally Championship will be held in Rwanda (May 16-17), Uganda (August 15-16,) Tanzania (September 19-20) and Burundi (October 17-18) will climax the season.

Participation will be compulsory for all competitors in the championship.

Crews competing for the regional championship must compete in at least four events to be considered on the title race.

In these events, entry fee will be waived for foreign crews attending the specified events while host nations may offer additional incentives for foreign participants at their discretion.