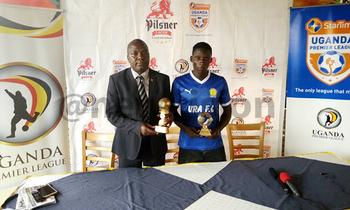 Ssimbwa was crowned together with his player Cromwel Rwothomio. PHOTOS: Shafik Ssenoga
Coach Sam Ssimbwa hailed the organisers of the Pilsner monthly awards for recognising best performers in the Uganda Premier League.
Ssimbwa was speaking after being named coach of the month of January after guiding URA to four wins and one draw in the five games.
"I have managed to reach this milestone because of my players and backroom staff. When my players perform well, I also perform well. These are facts that had made us improve in the second round. We had six draws in the first round and some of these games should have been won, but this is because there has been an improvement in officiation," stated Ssimbwa.
"Winning this is a sign of motivation and it's going to give us the motivation to work harder. We are focused on winning as many games as possible, but it's a big hurdle for us to win the league. Eleven points behind leaders Vipers is something big although there is nothing impossible."
Ssimbwa shows off the award
Ssimbwa was crowned together with his player Cromwel Rwothomio, who was named player of the month.
The former Paidha Black Angels striker scored four goals and created goals in the five games he featured in for the tax collectors last month.
The duo each received an accolade and a cash prize of sh1m each from the league manager Paul Kabaikeramu.
"I'm happy to be here and it has never been easy, but I take the thanks to my fellow players and coaches. It's all about commitment and hard work. This award shows that more is to come," noted Rwothomio.
Rwothomio put up a man of the match performance last Friday when he scored a penalty and also assisted as URA defeated title contenders and reigning champions KCCA 2-1 at Ndejje University.
URA's LAST FIVE GAMES
31.01.20 URA SC vs Kampala City 2 : 1
28.01.20 Tooro vs URA SC 1 : 1
18.01.20 URA SC vs Bright Stars 1 : 0
15.01.20 BUL vs URA SC 1 : 3
07.01.20 URA SC vs Villa 2 : 0