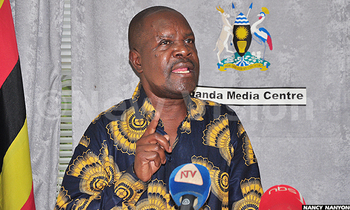 DIPLOMACY PEACE EAST AFRICA

KAMPALA- Government spokesperson Ofwono Opondo has said if Rwanda wants to stop their citizens from coming to Uganda that is entirely their job.

"We as Uganda, we wish Rwanda the best because we have no issues with them," Opondo said.

He made the remarks while appearing on Capital FM's Capital Gang talk show on Saturday.

President Paul Kagame of Rwanda told over 60 diplomats in the capital Kigali on Wednesday that he was not about to tell his fellow countrymen to return to Uganda because he had no control over their safety in the neighbouring country.

"We have had hundreds of Rwandans arrested in Uganda. And we have raised this matter with Ugandan authorities. We have hundreds of families coming and appealing to us asking 'why you don't ask Uganda to release our people," Kagame said.

He added: "Just stop going there because if you go there, I have no control. They may arrest you, and your families will come to me and say you have been arrested. And there is nothing I can do about it."

In December last year, Uganda and Rwanda agreed on the creation of a joint verification commission to help ascertain the litany of accusations and counter-accusations that are currently at the heart of their frosty relations.

The development was part of the second meeting of the ad hoc commission of the Luanda (Angola) memorandum of understanding between Rwanda and Uganda in August.

The meeting under the facilitation of Angola and DR Congo took place at Munyonyo, a Kampala suburb.

"The issues at hand are resolvable," Sam Kutesa, Uganda's foreign minister and its leader of the delegation said.

"We have agreed on the formation of a joint verification committee to help ascertain accusations against each other," he added.

Other members of Uganda's delegation included the then Deputy Attorney General, Mwesigwa Rukutana, state minister for internal affairs, Obiga Kania, Deputy Chief of Defence Forces, Lt Gen. Wilson Mbadhi and head Chieftaincy of Military Intelligence Brig. Abel Kandiho.

Rwanda's state minister for East African Community, Ambassador Olivier Nduhungirehe who led the Rwandan delegation, just like Kutesa before him made a case for "good faith and will" if issues behind the bad blood between the two countries can be solved.

However, the talks, save for a meeting of minds on the extradition treaty between the two countries did not cover much ground.

More sticking issues, according to Kutesa, will require further consultation of the two countries' heads of states.

Uganda and Rwanda are in the throes of a diplomatic spat over accusations by the former that Kampala is supporting dissident groups bent on regime change in Kigali.

Uganda has denied such accusations and instead, accused Kigali of seeking to infiltrate its security agencies.

Museveni, Kagame meet again

Meanwhile, Angola's President João Lourenço has invited his counterparts Félix Tshisekedi of DRC, Yoweri Museveni of Uganda and Paul Kagame for another Quadripartite Summit in Luanda on Monday.

"Security matters and regional cooperation will be at the heart of the discussion," Angola's ministry of foreign affairs tweeted.