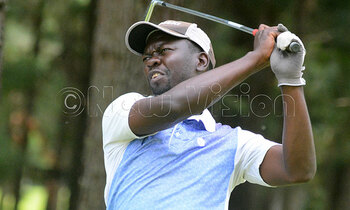 GOLF SAFARI TOUR

Uganda professional golfer Phillip Kasozi could only pick ten points from the 9th leg of the Safari Tour at Sigona Golf Club in Kenya but remains on course to qualify to play in the Magical Kenya Open.

Kasozi has collected an average of 18.39 points from the nine tour events he has competed in but has only amassed points from five, though he remains in second place on 165.5 points just below Zimbabwe's Robinson Chinhoi who is on 169.

The top two non-Kenyans from the tour will get entry into the Magical Kenya Open while there are eight slots for the Kenyan nationals. Only members of the Safari Tour earn points.
At Sigona Kasozi had a relatively good three opening rounds shooting 76, 74 and 72 respectively amidst rain and misty conditions but fumbled in the last, with a nine-over 81 to slip further down the leader board.

With the next leg of the tour coming to Kampala in the Kitante Open, February 12-14, Kasozi will be looking to making amends on the home greens, where a top-five finish will see him stretch his tally away from Nigeria's Andrew Oche who is closely following in the third position among the non-Kenyan nationals on 160 points.

Kenya's Greg Snow with three consecutive wins at Thika Greens, Muthaiga and at Sigona, now leads the tour standings on 350 points, 13 ahead of Dismas Indiza who has also won three of the nine competitions he has competed in and only missing the cut once.
With only three events left, Uganda's other tour players; Silver Opio, Opio Onito Jr, Deo Akope, Brian Toolit, and Becca Mwanja will only be playing for pride especially at Kitante where this year's Uganda Open will also be held.

The Magical Kenya Open presented by Absa is a European Tour event with a prize fund of sh4b and attracts the top professionals from around the world.

Italy's Guido Migliozzi claimed last year's title after shooting 268 gross over the four rounds. The 22-year-old pocketed €183,330 (sh600m).

Remaining Safari Tour events
Event 10: Kitante Open (Uganda Golf Club), February 12-15 2020.
Event 11: Karen Country Club, February 22-26 2020
Event 12: Tanzania Open (Kiligolf) TBC

Magical Kenya Open: Karen Country Club, March 12-15 2020