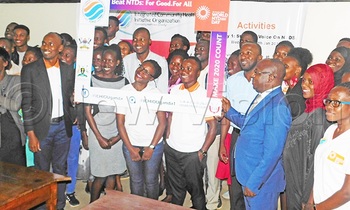 KAMPALA - Is swimming one of your hobbies? If yes, then ensure that you carry out regular checkups for diseases such as schistosomiasis, also known as snail fever and bilharzia.
Health experts have warned that people who reside near water bodies are also likely to suffer from bilharzia since they draw water out of the lake for use.
The acting assistant commissioner of vector borne and neglected tropical diseases at the health ministry, Dr Alfred Mubangizi, said bilharzia is one of the 11 diseases neglected tropical disease which is still a challenge among several communities.
Mubangizi, while addressing medical students and health experts at the Makerere University School of Public Health, said most of these diseases are transmitted through water and communities tend to take them for granted.
He said the diseases are common around areas of Lake Kyoga and Lake Victoria, adding that people near the beaches who use the water are likely to contract the disease.
He, however, warned that people should not relax although some diseases such as Guinea worm have been wiped out.
The co-founder of the Integrated Community Health Initiative Organisation (ICHIO), Maxencia Nabiryo, said 1.5 million people risk contracting bilharzia in Uganda.
Nabiryo said Ugandans should maintain hygiene in order to avoid the disease.
She said in partnership with the school of Public Health and the health ministry, they had come up with a programme to sensitise communities living around the lakeshores.