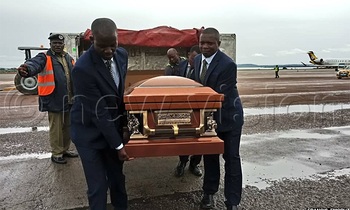 WEDNESDAY, JANUARY 29 IN PICTURES


Presented by Joseph Kizza

@joekizza

(Refresh page for picture updates)

_____________________________


5:10pm | Peter Otai's body arrives home from London
Several officials, family and friends were at Entebbe International Airport to receive Otai's remains.




State minister for relief and disaster preparedness Musa Francis Ecweru and UPC party president Jimmy Akena were among the officials at Entebbe.




Otai's family was grateful to President Yoweri Museveni for accepting to have his body returned home and accorded a state funeral.




The former minister's body was flown back home on an Emirates flight.

The body was received by Minister Ecweru and public service state minister David Karubanga, alongside UPC bigwigs, reported New Vision's Francis Emorut.




The plane touched down on the Entebbe tarmac at 2.00pm local time, before the casket was offloaded from the cargo area.




Close family members of the late former minister were present at Entebbe.

Present were the widow, Margaret Otai; his sister-in-law Erlin Ibresk; and his brothers Simon Peter Orenge, Peter Otai, Richard Omongole and others.


The casket carrying Otai's remains was carefully unpacked from the shipping casket . . .




. . . then the funeral service team lifted the coffin out to the funeral van.




It was a reception befitting a man who once served as a minister and a diplomat.




_____________________________


5:00pm | Peter Otai's body arrives home from London

The body of former Ugandan minister Peter Otai has arrived back in Uganda after a flight from London, where he died - in exile - at the beginning of this year.

Otai passed away in the wee hours of January 2 at the age of 79.

He served as Minister of State for Defence in the Obote II government (1980-1985) and later fled into exile, from where he commanded rebellious activities against the then National Resistance Army (NRA) that assumed power in 1986 under the leadership of Yoweri Museveni.




_____________________________


3:50pm | Janani Luwum: Pilgrims set off for 510km journey

Hundreds of pilgrims on Wednesday set off on a 510km journey to Kitgum in commemoration of fallen archbishop of the Church of Uganda, Janani Luwum.




Luwum was archbishop from 1974 to 1977.

He was murdered on February 16, 1977, on the orders of the then-president of Uganda, Idi Amin Dada, over allegations of wanting to overthrow the government.

Every February 16, the Archbishop Janani Luwum Day is dedicated to the life and service of Luwum.




On Wednesday, the pilgrims started off their journey from St. Paul Cathedral, Namirembe. They proceeded to the Archbishop's residence, then to Kampala Serena hotel (the then Nile Mansions) and then to State House Nakasero.

They will continue to Mucwini, Kitgum in northern Uganda to complete their pilgrimage.


_____________________________


2:50pm | Tarehe Sita: Regional celebrations launched

Tarehe sita is Kiswahili for the sixth day of the month.

It is an important date in recent Ugandan history.




It is celebrated every year to mark the day the National Resistance Army's (NRA) first attack on Kabamba barracks in Mubende to set in motion the 1981-1986 Bush War.

The attack happened on February 6, 1981.




Every year, that pivotal day is commemmorated - and it is no different this year.

In the lead up to the day, the army organises several engaging activities. The 39th Tarehe Sita celebrations were launched on Tuesday, and today, the regional celebrations have also been launched in Nakaseke district - at Timuna SS play ground in Nakaseke.

The regional launch has been presided over by Gen. Salim Saleh (Caleb Akandwanaho).




It has been an engaging event . . .




The day before (Tuesday), Vice President Edward Kiwanuka Ssekandi launched the 39th-anniversary celebrations at the military headquarters in Mbuya.




Gen. Salim Saleh is one of the living bush war veterans, who fought alongside future president Yoweri Museveni. He has since retired from active military service.




Chief of Defence Forces Gen. David Muhoozi is among the several army officers that have attended the regional launch.


MP Sarah Najumba addresses the crowd


_____________________________


2:10pm | Museveni in Kisoro for wealth creation campaign

There is an air of fizz hanging over Gatete grounds in Murora sub-county, where the President in expected.




Kisoro Woman MP Rose Kabagyenyi (left in the picture below) is attending the function.




There is a huge turnout . . .




Prof. Tarsis Bazana Kabwegyere is a sociologist, academic and a former Minister of General Duties. He is at the event.

His necktie with colours of the Uganda national flag add a touch of distinctiveness to his look.

A conspicuous sprinkle of patriotism!




Then there is the Kisoro LCV chairperson, Abel Bizimana.

He could not resist the temptation to hop into the 'dancefloor' to flounder his adventurous bones.

Animated and with a sudden burst of vim, the district leader has shown that he has a bucketful of stamina in his body!




These Batwa youth have shown what they are musical made of. Great entertainment, guys!




_____________________________


2:05pm | Museveni in Kisoro for wealth creation campaign

In Kiisoro district, hundreds of people have gathered at Gatete grounds in Murora sub-county to receive President Yoweri Museveni, who is visiting the area today for a wealth creation campaign.

New Vision's Job Namanya is at the function.



The President is expected to open a community library in this area and he will lay a foundation stone for a multi-complex structure at Bishop Barnabas Memorial Secondary School.

District leaders are sat and for now, they are taking in the dose of entertainment.



Energetic performances are a feature of today's event.




_____________________________


10.50am | Peter Otai funeral: Rugunda chief mourner

Meanwhile, Government has named Prime Minister Dr. Ruhakana Rugunda as the chief mourner at the burial of Peter Otai, who served as minister and diplomat in the Obote II regime and later as UPA rebel leader.

The decision was reached at during a meeting between the family lawyer, Richard Omongole, and Rugunda at his office in Kampala on Tuesday, reports New Vision's Godfrey Ojore in Soroti.

The state minister for public service, David Karubanga, will be at Entebbe International Airport to receive Otai's body.

READ FULL STORY AND PROFILE HERE.




_____________________________


10.35am | UPDAF helicopter crash

Meanwhile, Uganda is mourning the death of two army officers attached to the airforce wing of the military - UPDAF.

They were killed in a helicopter that went down at an elevated spot in Ndeese village, Bulo sub-county in Butambala district.

We will provide you with picture updates as and when they come through during the course of the day.


Meanwhile, we have received a photo said to be the ill-fated helicopter - a Jet Ranger - that crashed on Tuesday.




_____________________________


10.33am | Body of former minister Peter Otai arrives today

The remains of former minister and Uganda People's Army (UPA) rebel leader, Peter Iloot Otai are expected to be flown in today for a state funeral.

The interment is scheduled to be in his native Soroti district.


Otai left Uganda for the UK where he commanded rebellious activities against the then National Resistance Army (NRA) that assumed power in 1986 under the leadership of Museveni.

"We are grateful to President Yoweri Museveni for accepting the remains of our son be brought back for burial," said Michael Eroku, the zonal clan chairman of Irarak-Iderin in Soroti.

READ FULL STORY AND PROFILE HERE.