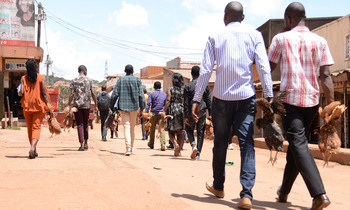 Church members distributing chicken. Photos by Maureen Nakatudde
When Pastor Henry Mugisha started Community Life Church Natete, his vision was serving the community.

"We are deeply rooted in service," Mugisha said as the church celebrated its first anniversary on Sunday.

During 2019, with the offering got from the members, Mugisha said they have reached to the community. They have responded to the community's most important needs such as safety and health. The church has given out 350 reflectors (Life jackets) to boda boda cyclists.

"We bought the life jackets at sh15, 000 each," he added.

Since March, church members were called upon to each contribute sh500 every week in order to organize a medical camp that would take place in October. Mugisha said they were able to have the camp at church for a week. Here medical experts in different fields came to church and offered checkups and treatment to the people in and around the community.
In April Prior to Easter, the church offered 250 chickens to 250 families in the slum area of Nanfuka, Natete. Members were free either to eat or use the chicken for business.

Starting off with 30 members including his wife and three children, the church of one year has a population of 200 members.

"God had already prepared this place for us," reveals Mugisha. "We found that this hall had spent 15 years without a tenant." Since the hall's establishment, nobody has ever occupied it.
The guest preacher, Pr. Gerald Rovis Masinde from Bethel Covenant Church Connection, said the church can only be successful if her leader is led by the Holy Spirit and continues to inquire of God just like David did in the Bible. "You should wait on God," says Masinde, "God always sends secondary instructions."

Mugisha was formerly a pastor of Victory Christian Church, Lubaga having been ordained as a pastor in Singapore, 2004.