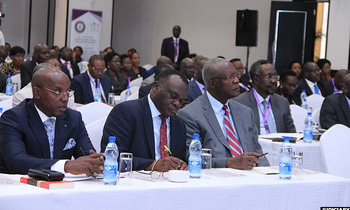 ROLLING NEWS THROUGHOUT THE DAY


Presented by Joseph Kizza

@joekizza

(Scroll down page for earlier updates)

_____________________________


2:25pm | Kigezi FDC supporters celebrate 15th party anniversary


FDC supporters across Kigezi are celebrating 15 years of the party's existence. In Kabale district, celebrations started from Kabale Municipal Stadium under tight police supervision.

Kabale DPC Brian Ampeire said the celebrations went on without incident.

Party leaders including Francis Mwijukye, the Buhweju MP, Jack Sabiiti, Doreen Nyanjura and others from the region attended the anniversary celebrations.




_____________________________


2:10pm | Mbarara City v Vipers: Kajoba set for first assignment

New Vipers head coach Fred Kajoba will hope for a bright start at the helm of the Venoms when they face Mbarara City in the Uganda Premier League on Tuesday.

Kajoba, 50, was unveiled as Edward Golola's successor after the latter was dismissed following their shock exit from the Uganda Cup at the hands of minnows Kajjansi United.

Kajoba took his new side through a training session on Sunday ahead of their game against the Ankole Lions.

Vipers lead the table on 42 points, four points ahead of second-placed KCCA FC, the defending champions.

Mbarara City lie in the bottom half of the table on 22 points, six points off the drop zone.




_____________________________


1:26pm | Rwenzori Investment Expo around the corner

The two-day expo starts on Thursday (this week) in Fort Portal.

It is understood President Museveni will deliver a kynote address at the event at The Mountains of the Moon University Lake, Saaka campus.

It is hoped that the expo will pprovide a pedestal for engaging with the local government's investment community to enhance value addition, create more jobs and incomes for households as well as strengthening private sector performance in the region.


_____________________________


12:34pm | Annual Judges Conference gets under way

The 22nd Annual Judges Conference has kicked off in Kampala under the theme: Discharging the mandate of the Judiciary towards a modern, professional and effective Judiciary.

It will end on Thursday.




_____________________________


12:15pm | Police update nation on security situation

Every Monday, the Police addresses a weekly press conference on the general security situation in the country.

It has been no different today.


Now on: CP @FredEnanga1 the Police spokesperson and @metpoliceug Deputy PRO @Lukowoyesigyire addressing the Media on the General Security situation in the country at police Headquarters Naguru. pic.twitter.com/LTDWE42VO8

— Uganda Police Force (@PoliceUg) January 27, 2020

_____________________________


11:42am | FIFA secretary general meets Kadaga



Meanwhile, visiting FIFA secretary general Fatma Samoura has met the Speaker of Parliament, Rebecca Kadaga.

She is in company of FUFA president Eng. Moses Magogo, CEO Edgar Watson, among other officials.


_____________________________


11:23am | The global spread of the coronavirus: Where is it?


A virus similar to the SARS pathogen has claimed 81 lives since emerging in a market in the central Chinese city of Wuhan, and spread around the world.

Here are the places that have confirmed cases of the 2019 Novel Coronavirus:

China

As of Monday, more than 2,700 people have been infected across China, the bulk of them in and around Wuhan.

Nearly all of the 81 who have died were in that region, but officials have confirmed at least five deaths elsewhere.

The city of Macau, a gambling hub hugely popular with mainland tourists, has confirmed six cases as of Monday.

In Hong Kong, eight people are known to have the disease. Of those, six arrived via a newly built high-speed train terminal that connects with the mainland.

France

There are three known cases of the coronavirus in France, the first European country to be affected by the outbreak.

One person is sick in Bordeaux and another is ill in Paris. A third person, a close relative of one of the other two, has also been confirmed to have the virus.

All three had recently travelled to China and have been placed in isolation.

Japan

Japan's health authorities confirmed the country's fourth case on Saturday: a man in his 40s, visiting Japan from Wuhan, who is in hospital in a stable condition.

Another man was hospitalised on January 10, four days after his return from a visit to Wuhan.

And a further two people from the Chinese city -- a man in his 40s and a woman in her 30s -- have also been treated in hospital for fever.


Australia

Australia confirmed its fifth case of the virus on Monday -- a 21-year-old woman who recently arrived in Sydney on a direct flight from Wuhan. She is being treated in a Sydney hospital.

One man in Melbourne and three men in Sydney earlier tested positive and were being treated in hospital isolation units after also arriving in the country from Wuhan.

United States

The US has confirmed five cases of the virus in patients who had recently entered the country from Wuhan.

A man aged in his 30s reported himself to authorities on January 19 after returning to his home near Seattle.

On Friday, public health authorities said the virus had been detected in a Chicago woman in her 60s, and on Saturday a traveller from Wuhan in California was confirmed as the third infected person on US soil.

A second case was confirmed in California on Sunday, along with one in Arizona.

Canada

Canada has reported a "presumptive" case of the virus in a man who returned to Toronto from Wuhan.

The patient is aged in his 50s and has been placed in isolation.

Malaysia

Malaysia confirmed its fourth case on Sunday. All are Chinese nationals on holiday from Wuhan who arrived in the country from Singapore.

A 66-year-old woman and two boys, aged two and 11, were in stable condition, Malaysia's health minister said Saturday.

The latest confirmed case is a 40-year-old man who entered the country on a bus with a Chinese tour group.

Nepal

Nepal said a 32-year-old man arriving from Wuhan had the disease.

The patient, who was initially quarantined, recovered and was discharged.

Singapore

Singapore announced its fourth case of the coronavirus on Sunday. All four patients had arrived in the city-state from Wuhan over the last week.

South Korea

South Korean media reported the country's fourth case on Monday.

The latest patient is a 55-year-old Korean man who returned from Wuhan on January 20. He was quarantined and tested after experiencing symptoms.

The other patients include two South Korean men, both aged in their 50s and working in Wuhan, who returned to the country earlier this week.

Seoul reported the nation's first case on January 20 -- a 35-year-old woman who flew in from Wuhan.

Taiwan

Taiwan has uncovered four cases so far -- the latest a woman in her fifties who was in Wuhan for a sight-seeing tour and returned home voluntarily on January 25.

Thailand

Thailand has detected eight cases so far -- three are receiving treatment in hospital and five have been discharged, according to the health minister's statement.

All the infected persons are Chinese nationals, except for a 73-year-old Thai woman who came back from Wuhan this month.

Vietnam

Vietnam confirmed two cases of the virus on Thursday. An infected man from Wuhan travelled to Ho Chi Minh City earlier this month and passed the virus on to his son.


_____________________________


10:45am | FIFA secretary general in Uganda


The secretary general of world football governing body FIFA has arrived in Uganda for meetings with local football governing body FUFA.

Senegalese Fatma Samoura said she is "delighted" to be the first ever FIFA secretary general to visit "your beautiful country".

"Can't wait to see what you are doing to develop football", she tweeted.


Video | Welcome to Uganda @FIFAcom Secretary-General @fatma_samoura pic.twitter.com/tPADf7kZON

— FUFA (@OfficialFUFA) January 27, 2020


_____________________________


10:30am | 'Museveni a mentor to me and to many African leaders'

The following day, on Sunday, all roads led to St. George's Core Primary Teachers' College in Ibanda for the 34th NRA/M victory day anniversary celebrations.

Former Tanzania president Jakaya Kikwete attended the event as a special guest, during which he said he first knew President Yoweri Museveni back in his youthful days at school and that he has been a mentor to him and to many African leaders.

Pictures from the function are HERE.




_____________________________


10:20am | NRM to conduct elections by way of lining up

We are coming from a busy weekend party politics, anniversaries and sports.

On Saturday, the NRM held their national delegates conference at Namboole Stadium, chaired by President Yoweri Museveni.

At the end of the massively-attended meeting, the party adopted a resolution to have elections conducted by way of lining up behind the nominated candidates, their representatives, portraits or symbols.

Check out how the conference unfolded OVER HERE.




_____________________________


10:03am | Today's Ras Toon

Finance ministry officials have said part of the sh2.4 trillion the Government plans to borrow will fund the 2021 polls.




_____________________________


9:43am | No evidence virus has changed - WHO

Meanwhile, as Uganda strives to protect itself from coronavirus intrusion, the World Health Organisation says it is working with networks of specialists to analyze the virus' full genome sequences as they become available.

"We have not received evidence that the virus has changed. We await further information from Chinese officials," WHO tweeted, adding a link to the situation report on the post.


Here is a summary of the report as of January 26.

• On 26 January 2020, the number of reported confirmed cases of novel coronavirus (2019-nCoV) has increased by 694 cases since the last situation report published yesterday.

• A total of 2,014confirmed 2019-nCoV cases have been reported globally;

• Of the 2,014 cases reported, 1,985 caseswerereported from China,including Hong Kong SAR (5 confirmed cases),MacauSAR(2 confirmed cases)and Taipei(3 confirmedcases).

• Twenty-nine confirmed cases have been reported outside of China in ten countries(see table-1).

- Of these 29 exported cases, 26 had a travel history from Wuhan City, China.

• Among the three cases identified in countries outside of China:

- One case in Australia had direct contact with a confirmed case from Wuhan while in China;

- One case in Australia reported today; travel history is not yet known.

- One case in Viet Nam had no travel historybut was in contact with a confirmed case (his fatherwith travel history to Wuhan), resulting fromhuman to human transmission within a family.

• Of the 1,975 confirmed cases (excluding Hong Kong SAR, Macau SAR and Taipei), 324 cases have been reported as severely ill2.

• Fifty-sixdeathshave been reportedto date(52deaths in Hubei provinceand 4 from outside Hubei).


_____________________________


9:24am | Guarding a nation against coronavirus

The health ministry says it has put in place screening measures for coronavirus at Entebbe International Airport.

The ministry has also gone ahead to post some key facts on the virus, which has so far claimed the lives of 80 people, according to reports.


While @MinofHealthUG has put in place screening measures for #coronarovirus at @EntebbeAirport, it is paramount to know about the virus and take appropriate preventive measures.

Knowledge is power. pic.twitter.com/8hOUtmpWPW

— Ministry of Health- Uganda (@MinofHealthUG) January 25, 2020

_____________________________


9:19am | What's happening back home

OK, let's turn our attention back to domestic affairs.

We are reeling from a weekend laden with activities.


_____________________________


8:50am | 'A man much more than an athlete'

The NBA's all-time leading scorer Kareem Abdul-Jabbar says he will remember Kobe Bryant as "a man who was much more than an athlete".


Most people will remember Kobe as the magnificent athlete who inspired a whole generation of basketball players. But I will always remember him as a man who was much more than an athlete. pic.twitter.com/9EZuwk8wrV

— Kareem Abdul-Jabbar (@kaj33) January 26, 2020
When Kareem Abdul-Jabbar left the game in 1989 at age 42, no NBA player had ever scored more points, blocked more shots, won more Most Valuable Player Awards, played in more All-Star Games or logged more seasons.

His list of personal and team accomplishments is perhaps the most awesome in league history: Rookie of the Year, member of six NBA championship teams, six-time NBA MVP, two-time NBA Finals MVP, 19-time All-Star, two-time scoring champion, and a member of the NBA 35th and 50th Anniversary All-Time Teams. He also owned eight playoff records and seven All-Star records. No player achieved as much individual and team success as did Abdul-Jabbar.




_____________________________


8:40am | Paid tribute to a legend

After the game between the New York Knicks and the Brooklyn Nets, Madison Square Gardens interior lights were changed to purple and gold to honour NBA legend Kobe Bryant.




An image of the late Kobe Bryant was projected onto a screen while Host Alicia Keys and Nathan Morris, Wanya Morris, and Shawn Stockman of music group Boyz II Men performed onstage during the 62nd Annual GRAMMY Awards at STAPLES Center.




A spectator in NBA legend Kobe Bryant jersey watched the women's singles match between Romania's Simona Halep and Belgium's Elise Mertens on day eight of the Australian Open tennis tournament in Melbourne, Australia.




_____________________________


8:25am | More on Kobe Bryant

News of the helicopter crash that killed Kobe Bryant, his daughter and seven others started to trickle in Sunday night as Ugandans prepared to tuck themselves in.

Here are the stories we carried at the time:

• NBA legend Kobe Bryant, daughter killed in helicopter crash

• How Twitter reacted to Kobe Bryant's death

• 1978-2020: Kobe Bryant Factfile


_____________________________


8:17am | Today's motivational quote

"Once you know what failure feels like, determination chases success."

- Kobe Bryant




_____________________________


7:50am | Bryant's death sends shockwaves through NBA and beyond


Kobe Bryant's laserlike focus and sublime skills were remembered Sunday by NBA colleagues, fans and athletes he inspired as they absorbed the shock of his death at the age of 41.

Bryant, a five-time NBA champion with the Los Angeles Lakers and two-time Olympic gold medallist, died in a fiery helicopter crash in suburban Los Angeles that also claimed the life of his 13-year-old daughter Gianna and seven others.

"We laughed and joked about the Mamba mentality. We're all going to need it right now," an emotional Los Angeles Clippers coach Doc Rivers said before his team played the Magic in Orlando in one of eight NBA games on the night.

Madison Square Garden, home of the New York Knicks, was washed in the Lakers colors of purple and gold, and so were the pylons that mark the entrance to Los Angeles International Airport.

In San Antonio, the Spurs and Toronto Raptors both committed 24-second shot-clock violations on their opening possessions in honor of Bryant -- who wore No. 24 in the later stages of his career.

"The NBA family is devastated," NBA commissioner Adam Silver said. "For 20 seasons, Kobe showed us what is possible when remarkable talent blends with an absolute devotion to winning.

"He was one of the most extraordinary players in the history of our game."

Six-time NBA champion Michael Jordan said Bryant would be remembered as one of the game's greatest.

"Words can't describe the pain I'm feeling," Jordan said. "I loved Kobe - he was like a little brother to me."

That sentiment was echoed by Shaquille O'Neal -- who won three NBA titles and also famously feuded with Bryant in Los Angeles.

The grief was felt beyond the basketball court.

"The world lost a legend today, but the impact and legacy he leaves behind will last forever," Filipino boxing icon Manny Pacquiao -- an avid basketball fan -- tweeted.

Brazilian footballer Neymar dedicated his second goal in Paris Saint-German's 2-0 victory at Lille to Bryant, calling his death "deeply saddening for the world of sport and for all of us -- not just for basketball fans but for everything he did for sport."

Golf superstar Tiger Woods, whose professional career started the same year as Bryant's, recalled competitive qualities that echo those of Woods himself.

"The fire," Woods said of what he most remembered of Bryant. "He burned so competitively hot. He had such a desire to win. He brought it every night."

"Any time he was in the game he would take on their best player and shut him down for 40 minutes. I think that's one of the best things about him his whole career."

Woods, no stranger to injury, recalled the time Bryant ruptured an achilles tendon -- then stayed in the game to make his free throws.

It was just one of myriad signature moments Bryant produced in his career. But for many Sunday's grief for what he might still have achieved in his post-NBA life.

"Kobe was a legend on the court and just getting started in what would have been just as meaningful a second act," former US President Barack Obama, another keen basketball fan, tweeted.

'Heartbroken'

"His star was continuing to rise every day and he knew no limits because of his many intellectual and creative talents and desire to give back to others - his passion for the game, for his family and for others was apparent in everything he accomplished," former Boston Celtics star Larry Bird said.

In Los Angeles, fans gathered to leave tributes near the sight of the crash and outside the Lakers' practice facility miles south in El Segundo.

And they gathered outside the Lakers' Staples Center arena, where Bryant's death cast a shadow over the glitzy Grammy Awards.

"Here we are," Grammys host Alicia Keys said. "Together. On music's biggest night celebrating the artists that do it best. But to be honest with you, we're all feeling crazy sadness right now. Because earlier today Los Angeles, America and the whole wide world lost a hero.

"And we're literally standing here heartbroken in the house that Kobe Bryant built."


_____________________________


7:35am | Ugandans pay tribute to Kobe

Tributes continue to flow for the fallen basketball legend - in Uganda and beyond.


I joined sky jammer basket ball at jinja Uganda because of him RIP Kobe Bryant pic.twitter.com/b1hRFhL3kR

— TheBlame (@baxxy1962) January 26, 2020

_____________________________


7:25am | Kobe's relentless spirit inspired NBA fans, players


Kobe Bryant used a ferocious competitiveness and uncanny shooting touch to become an NBA icon, leaving behind a legacy that has influenced the newest generation of league talent and fans worldwide.

From his 81-point game, the second-best scoring performance in NBA history, to five NBA titles in 20 years of dazzling performances with the Los Angeles Lakers, Bryant delivered a relentless attitude that attracted a global following before his death Sunday at age 41 in a helicopter crash.

Bryant joined giant center Shaquille O'Neal to spark the Lakers to NBA titles in 2000, 2001 and 2002, becoming at the age of 23 the youngest player to capture three titles.

A bitter feud with Bryant saw "Shaq" depart, with Bryant portrayed as never having had childish ways while O'Neal never outgrew them.

That left Bryant without the inside force needed to capture the crown until Spain's Pau Gasol arrived, and the Lakers won titles in 2009 and 2010 with Bryant in command and later patching things up with O'Neal.

Bryant sparked the US Olympic team to gold medals at the 2008 Beijing and 2012 London Olympics and became a global celebrity as much for his personality as his playmaking.

Bryant's fierceness was legendary and led him to nickname himself the "Black Mamba" for his ability to strike quickly with deadly scoring accuracy.

There were spectacular nights, but nothing topped his 81-point effort against the Toronto Raptors on January 22, 2006, a mark surpassed only by Wilt Chamberlain's 100-point game in 1962.

Bryant scored 65 points in a 2007 win over Portland, then followed with 50 points against Minnesota, 60 at Memphis and 50 more against New Orleans -- the third-longest run of 50-point games in NBA history behind two from Chamberlain.

Some say Bryant saved the best for last, scoring a league season-high of 60 points against Utah in his final NBA game in 2016, becoming the oldest player in league history to crack that milestone at age 37.

"I love everything about this game," Bryant famously said. "For me, it's not a part of life, it is life, and it's a part of me."

In all, Bryant finished with 33,643 points, 7,047 rebounds and 6,306 assists over 1,346 career NBA games. He was an 18-time NBA All-Star, the 2008 NBA Most Valuable Player, the NBA Finals 2009 and 2010 NBA MVP and matched a record as a four-time NBA All-Star Game MVP.

Kobe faced controversy


But it wasn't a smooth path to stardom. In addition to nagging injuries that slowed his later seasons, Bryant faced a major rape controversy that delivered a body blow to his endorsements image.

Bryant, a father of four who married wife Vanessa in 2001, faced his darkest hour in 2003 when he was arrested in Colorado over a sexual assault allegation filed by a 19-year-old employee of a hotel where Bryant was staying ahead of knee surgery.

Bryant was accused of rape. He admitted to adultery but said he did not commit rape. In 2004, the case was dropped after the accuser refused to testify in a trial, and Bryant issued an apology saying he could understand how she might feel there was not consent.

A separate civil suit was settled under terms kept private.

In 2011, Bryant made an apology for using a gay slur to describe a referee and paid a $100,000 fine imposed by the NBA.

Knee and ankle injuries mounted as years began to take a toll on Bryant. He missed most of the 2013-14 season with a left knee injury and much of his penultimate campaign with a torn right rotator cuff, then announced his retirement by saying, "My body knows it's time to say goodbye."

After retiring, Bryant became a children's book writer and wrote the movie "Dear Basketball" -- last year's Academy Award winner for Best Animated Short Film.

Basketball 'is life'

Kobe Bean Bryant, the son of former NBA player Joe "Jellybean" Bryant, was born in Philadelphia in 1978 while his father played for the NBA's 76ers, the child named for the Japanese beef seen on a menu and his father's nickname.

The elder Bryant played from 1984 to 1991 in Italy, giving young Kobe a global worldview as he grew up dreaming of following his dad into the NBA.

"When I was growing up in Italy, it opened up a whole new world to me and I thought anything was possible," Kobe told AFP in 2009.

Bryant became one of the first NBA players to seek out a growing fan base in China, blogging for Chinese internet giant SINA in 2009.

"As a kid growing up, I never in my wildest dreams thought I would have this big fan base halfway around the world in Beijing and Shanghai," Bryant told AFP.


_____________________________


7:15am | Kobe Bryant death: 9 killed in helicopter crash


Nine people were killed in the helicopter crash that claimed the life of NBA star Kobe Bryant and his 13-year-old daughter, Los Angeles officials confirmed on Sunday.

Los Angeles County Sheriff Alex Villanueva said eight passengers and the pilot of the aircraft died in the accident.

"There were no survivors... There were nine people on board the aircraft, the pilot plus eight individuals," Villanueva said.

The helicopter crashed in foggy weather in the Los Angeles suburb of Calabasas. Authorities said firefighters received a call at 9:47 am about the crash, which caused a brush fire on a hillside.

The Los Angeles Times quoted police as saying that weather conditions were such that the Los Angeles Police Department's air support division grounded its helicopters until the afternoon, when the fog lifted.

"The weather situation did not meet our minimum standards for flying," said police spokesman Josh Rubenstein.

Los Angeles County Fire Chief Daryl Osby said firefighters had to hike to the site with medical equipment and hose lines to extinguish the blaze.

Los Angeles Mayor Eric Garcetti confirmed that Bryant's daughter Gianna was among the victims.

"L.A. is grieving with the Bryant family over the loss of Gianna, who perished with her father and friends in today's tragedy," Garcetti wrote on Twitter.

Gianna was one of Bryant's four children with his wife Vanessa.

The retired NBA star, 41, and Gianna were flying to a game his daughter was expected to play in when their helicopter crashed, according to US reports.

Local media said the other victims included another player and a parent.

Orange Coast College confirmed that its baseball coach, John Altobelli, 56, was also on board the helicopter.

CNN said Altobelli's wife, Keri, and one of their two daughters, Alyssa, were aboard the chopper, as well.


_____________________________


7:00am | Dark day for the sporting world

American basketball legend Kobe Bryant may be gone, but his legend lives on.



Good morning to you all.

If you have a soft spot for basketball, and sports in general, then there's really nothing good about this morning - surely!

Welcome to this live page, and as usual, I will keep you posted with bits of what's happening in Uganda, about Ugandans beyond the borders and any news that is relevant to Uganda.

Let's creep right in with updates on the death of Kobe Bryant, whom I am sure many Ugandans knew and followed.