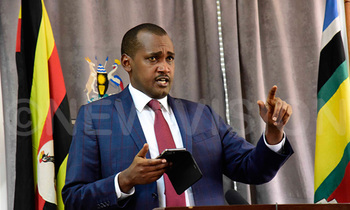 The newly appointed Minister of Gender, Labour and Social Development, Frank Tumwebaze, has said they have devised a new way to create more jobs in the country.
"We shall put in place a policy framework with a tool to track and measure social development indicators in terms of jobs created. Just like the finance sector is able to measure economic growth in terms of fiscal and monetary indicators so should be social development," Tumwebaze told New Vision.
He said this in an interview to be published in Sunday Vision this coming weekend as the country marks the 34th National Resistance Army/Movement Victory Day anniversary in Ibanda district.
"We must subject every project of every Ministries, Department and Agencies that take public resources to a policy analysis tool and see whether that project (public investment) creates jobs (social dividends)," he said.
Tumwebaze stated that if a public investment project or service is not producing jobs be it in the short, medium or long term then it's not worth investing in public resources.
"We need to answer the common questions of why economic growth is not translating into social welfare of citizens," he added.
The theme for this year's celebrations is: "Celebrating NRM/A's patriotic struggle that ushered in national unity and socio-economic transformation".