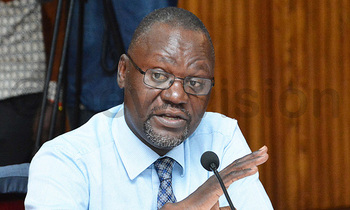 PHOTO: Abdu Katuntu
Former shadow attorney general, Abdu Katuntu (Bugweri County) has called for the imposition of term limits on women lawmakers on affirmative action in order to realise the aims of the framers of the 1995 constitution.

According to Katuntu, a one-time chairperson of the Committee on Commissions, Statutory Authorities and State Enterprises, the current practice of some female politicians seeking for elective offices in Parliament for 20 years defeats the purpose of empowering women.

Katuntu made the remarks Thursday, while reacting to Wilfred Niwagaba's justification for his Constitution (Amendment) Bill, 2019.

The piece of legislation which is a private member's Bill is proposing a number of constitutional amendments as envisaged by the 2016 Supreme Court ruling in Amama Mbabazi vs Yoweri Museveni.

According to Katuntu, the framers of the 1995 constitution thought that women would be elbowed out of politics if they were left to compete with men for seats in Parliament.

For that matter, they created district women seats with the overarching goal of empowering women.

"The slots of women MPs were created as part of wider plan to empower women. What then explains a person standing on affirmative action for 20 years? We need to limit representation on affirmative action to two terms," Katuntu said.

By allowing women who have been in Parliament for years to run on affirmative action, Katuntu avers, other ambitious women are blocked from getting empowered.
Betty Aol Ocan, the opposition leader in parliament pays attention to the debate. PHOTOS: Miriam Namutebi
When Katuntu was still shadow attorney general almost six years ago, he mooted the same amendment at a time a raft of constitutional amendments were being pushed through parliament.

But the 'hostility' the proposal spawned - especially from female politicians made him to quickly drop it.

Currently, a number of lawmakers, including Speaker of Parliament, Rebecca Kadaga, have served numerous terms on affirmative action.

Others include Government Chief Whip, Ruth Nankabirwa, Hanifah Kawoya, Cecilia Ogwal, Jalia Bintu and Margaret Babadiri.

A section of lawmakers led by Opposition Chief Whip, Ssemujju Nganda made a case for Katuntu's proposal to be extended to workers' MPs and representatives of people with disability.
MPs during a debate
Currently, Charles Bakabulindi and Dr. Sam Lyomoki have held on these seats for over three terms, while Arinaitwe Rwakajara is in his second term.

For people with disabilities, Hellen Asamo, William Nokrach and Safia Nalule Juuko have held on their seats for two terms.

However, Katuntu's proposal is contentious and its inconceivable for lawmakers to discuss it without spawning raw emotions.