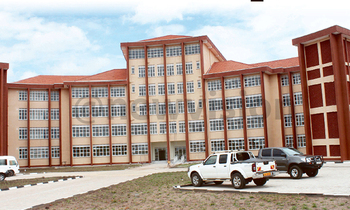 A retired midwife of Soroti Referral Hospital, Joyce Mary Adongo, 65, is one of the 93 pioneer students of Soroti University of Science and Technology. The university opened its gates for the first semester in August, 2019.

The university had 120 applicants, but others did not report, the university says. James Okello, the university academic registrar, said the institution offers two courses, that is, bachelor of medicine and bachelor of surgery as well as a bachelor in nursing science that the National Council of Higher Education accredited.

The university has attracted students from as far as Tanzania and Kenya who are privately sponsored.

"There was a delay in the arrival of equipment for computer engineering from abroad to enable us to have three courses at the start.

However, we are hopeful that the equipment will arrive before November to enable us to enroll students in February next year," Okello said.

Courses

Plans are underway to begin bachelors of commerce, finance, and accounting in August next year, according to the university spokesperson, Juma Hasan Nyene Nyene. He explained that out of the 63 students studying medicine, 30 are government-sponsored. Of the 33 enrolled for nursing, only four are privately-sponsored.

The students

Adongo, one of the privately-sponsored students at the university is also the oldest. She has become an inspiration to both the students and university staff. After clocking 60 years, the mandatory retirement age, as a midwife in Soroti Hospital in July 2014, Adongo went to Florence School of Nursing and Midwifery in Apac district to work as a clinical instructor.
The pioneer students of Soroti University in the lecture room. On the right is 65-year-old Adongo
"While there I found out that we had only five people who had a diploma while the rest had degrees. So, when I heard of Soroti University, I applied. I want to complete my course and enroll for post-graduate for tutorship," Adongo said.

If Adongo completes her course, she will graduate in 2023 at the age of 69."Age is not an issue. Once I graduate, there are many nursing institutions ready to employ me and by God's grace, I will make it," Adongo who hails from Katakwi district said.

Nasra Edward, 21, from Tanzania and a former student of Dodoma University where she studied for two semesters abandoned her course of guidance and counseling after she got admitted to Soroti University.

"Although my dream was to become a medical doctor, I failed to make it in my country forcing me to enroll for guidance and counseling. However, when I heard about Soroti University, I applied and I was lucky to be admitted," Nasra said.

Innocent Odhiambo from Kenya is another student beaming with pride after enrolling to study medicine.

"I tried Gulu University but I failed and on my way home a friend encouraged me to apply at Soroti University where I made it," Odhiambo, said.

Accommodation

Commenting on the issue accommodation since the Government has not built halls of residence at the campus, Nyene said the Government will pay hostel fees for government-sponsored students.

Uplifting Soroti

The university has added value to Soroti town which is the motherland of Teso. Its magnificent buildings stand tall along Soroti-Moroto road. The prices for plots of land in Soroti town have since gone up, especially in the northern division where the university is located.

Before the university was built, plots were sold at sh7m, but when the Government announced plans to have a university built, prices went up. Currently, the plots are sold between sh15m and sh20m. The university has also employed the residents.

It has also encouraged community members to set up businesses like canteens and shops because of the demand at the university. Many hostels have come up targeting the university.

Teaching staff

Currently, Nyene, said the university has over 20 lecturers.

On the issue of the construction of the medical school, Nyene explained that they are waiting for resources to begin construction."We have a memorandum of understanding with Soroti Hospital and our students use it for practice," Nyene said.

He said the university has land for future expansion. The land was given to the university by Teso College Aloet.