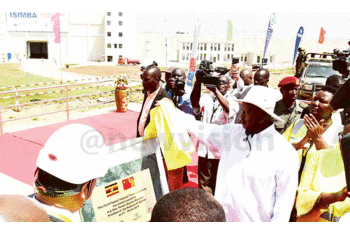 PHOTO: President Yoweri Museveni commissioning the Isimba Hydropower Station in Kayunga in March 2019
Installed power generation capacity increased with the addition of 235.45mw to the grid from 939.24mw in June 2018 to 1,174.69mw as at June 2019.
This increment was a result of completing and commissioning of various hydro-power dams namely: Isimba 183.2mw , Nkusi 9.6mw, Mahoma 2.7mw, Waki 4.8mw, Sindila 5.25MW, Mayuge Solar 10mw and Kabulasoke Solar 20mw.

2025mw target
This is, however, still below the National Development Plan II target of 2025mw.

"We believe that our generation capacity shall, further increase after commissioning the Karuma Hydro-power Project (600mw) whose construction works have progressed to 95%. This shall be another milestone to the energy generation capacity for industrialisation and economic development," Irene Muloni, the former Minister of Energy and Minerals said.

She said they expect five medium size hydropower projects and mini-hydros under the Global Energy Transfer for Feed-in-Tariff (GET FiT) Programme to add 51mw by December. These include Kyambura 7.6mw, Ndugutu 6mw, Nyamugasani (I) 5.9mw, Nyamugasani (II) 15mw and Siti (II) 16.5mw.

Muloni said construction works for the Agago-Achwa (II) 42mw HPP is complete and awaits the evacuation line, which is under construction. Commissioning of this plant is planned for second quarter of 2019/20. The main objective of the GET FiT Programme is to assist East African nations in pursuing a climate resilient low-carbon development path resulting in growth, poverty reduction and climate change mitigation.
Karuma Hydro Power project will be completed by December
In 2010, the Advisory Group on Energy and Climate Change of the secretary general of the United Nations had asked the private sector fi nanciers to present new concepts for promoting renewable energy investments in developing regions and what is needed to facilitate stronger private sector involvement.

GET FiT
Global Energy Transfer Feed in Tariffs (GET FiT) was developed by experts of Deutsche Bank Climate Change Advisors as a response to this question and presented in April 2010. The Government has also completed installation of two mini-grids of 2KW solar/wind hybrid projects in Kacheri community, Kotido district and Lokopo community in Napak districts. In addition, seven wind turbine systems for electricity generation in Kotido, Napak, Kaberamaido Namayingo and Mityana districts were upgraded to altogether generate 2KW solar/wind.
The Ministry of Energy and Mineral Development in partnership with the Arab Republic of Egypt is set to install a 4mw solar PV system at Busitema University, Busia district with project construction to commence this month. In preparation for introduction of nuclear power, pre-feasibility studies for about 2,000mw nuclear power project were conducted and bilateral co-operative frameworks with prospective nuclear technology vendors established. Muloni notes that power tariffs are expected to drop by 17.45% for domestic and industrial users as the Isimba is commissioned and the long awaited Karuma Hydro Power Projects are set to be commissioned.

Isimba
The Isimba Hydro Power dam project construction works were launched in 2013 and construction commenced in April 2015 until end of last year. It is now helping save the country from load-shedding as a result of the increase in power generation. The dam cost the Government $567.7m (sh2.1 trillion). Of this, 85% of the contract value was a loan from the Exim Bank of China and 15% as direct contribution from the Government. The project was implemented by the Uganda Electricity Generation Company Limited, and contracted by the China International Water and Electric Corporation.

Karuma due
State minister for energy Eng. Simon D'Ujanga said the Karuma dam overall progress stands at 94.9% with the plant construction expected to be completed by December. He said commissioning is conditioned on the completion of Karuma transmission lines that are currently experiencing delays due to land compensation challenges.

President Yoweri Museveni commended Sinohydro Corporation Limited the contractor for the 600MW Karuma Hydro Power Project for the good progress of the work done. Museveni said the project is expected to generate 200MW by the end of this year, when two turbine units become operational.

"The two units will exceed the 180MW being generated at Kiira and Nalubaale Power stations in Jinja. By the end of next year, we expect a total of 600MW to be generated," Museveni said. The construction of the Karuma dam involves building heavy voltage (400kva) transmission lines to evacuate power from Karuma to Kawanda, Karuma to Lira and Karuma to Olwiyo for distribution countrywide for industrial and domestic consumers. The $1.7b (sh6 trillion) dam one of government's major projects intended to substantially increase electricity supply is located at 15km downstream Karuma Falls along River Nile in Kiryandongo and Oyam districts. The project has provided employment for 4,000 Ugandans.

It is a major milestone for Uganda's transformation that will increase installed generation capacity to 1,800mw once it is commissioned early next year. The Government through the energy and minerals sector has made tremendous progress in enabling industrialisation by providing stable electricity for job creation and shared prosperity. D'Ujanga said the Energy and Mineral Development sector is steadily on course in the implementation of the National Vision 2040 and the NRM Manifesto 2016-2021. On policy and legislation, he said the sector has taken forward steps to review and formulate new policies and amendments to the existing legislation in order to match the international best practices. He said those under review include the Energy Policy 2002, the Electricity Act 1999 and the Energy Effi ciency and Conservation Bill 2018.

President's directives
D'Ujanga said that during the year under review, the sector continued to implement the President's directives of 2016 relating to the energy sector as follows:

 Efforts on energy tariff reduction have been implemented and especially for the extra-large industries that are now paying US cents 5 per kWh during off-peak hours.

 Electrifi cation of the four industrial parks at Namanve, Iganga, Mukono and Luzira is progressing.