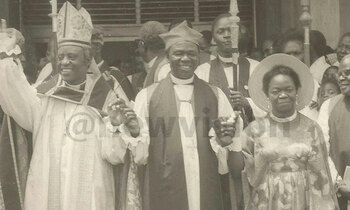 The 43rd commemoration of Archbishop Janani Luwum's life will take place on February 16 in Mucwini, Kitgum District, according to a government programme.
Luwum served as the second African Archbishop of the Church of the Province of Uganda (Rwanda, Burundi and Boga Zaire) and second Bishop of Kampala Diocese from 1974 to 1977).
The theme for this year's celebration is: "Let us not get tired of doing good." In 2016, government gazetted February 16 as a public holiday in his honour.
Born in 1924, in Mucwini, north of Kitgum district, Luwum grew through the ranks to top positions in the church.
An outspoken critic of the government, Luwum was accused of treason. On February 16, he arrested together with two cabinet ministers (Erinayo Oryema and Charles Oboth Ofumbi).
His lifeless body was later discovered and the government at the time claimed that he met his death in a car accident.
He was interred at the Martyr's gravesite in Mucwini Church of Uganda in his home town of Kitgum District.