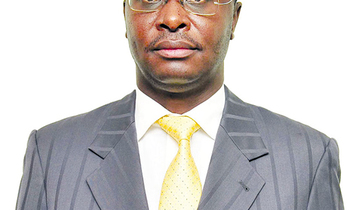 By Moses Byaruhanga
Recently, the President participated in the anti-corruption walk whose theme was the fight against corruption starts with me.
Basically, before we blame anyone, if we all said no to corruption, then the evil would be no more. When the Lt. Col Edith Nakalema's Anti Corruption Unit was created slightly over a year ago, some people criticized the President for setting it up.
Time has shown, however, that this Unit is effective as evidenced by many cases so far before the court as a result of their intervention. While I commend Col Nakalema and her team for their efforts and the efforts of those who report cases to them, there is still more to do.
Part of the corruption is a result of the red tape in the government system. Many people complain about what it takes to get a land title, a passport until recently, and getting other services from the government system.
Government officials take advantage of the gap created to ask for bribes from those seeking these services. You find brokers in the system who are not government workers.
These ask you if you are willing to pay some money to get the service you are looking for. And because there are no timelines for the service to be ready, both the brokers and the corrupt officials take advantage.
In the NRM manifesto, we promised to come out with timelines in which government departments should offer services to the public but unfortunately, this promise has not yet been implemented to the latter although some government departments like the Passport Control Office has started on an electronic application for a passport and clearance at Entebbe Airport.
The Passport Office was in the papers recently, where the press exposed those who take money from people promising them that they will get passports in a few days. The introduction of an electronic application of a passport will eliminate human contact and reduce the demand for bribes to get a passport.
With time when the system is perfected, bribes to have a passport processed in time will be completely eliminated. You will agree with me that nowadays, you can get a driving permit in a matter of hours.
This is because the system is electronic. Therefore, it's a question of time that those government services that can be offered through an electronic system should immediately move that direction.
For instance, when one applies for a land title at any land office, part of the process could be done electronically and for that which needs physical appearance at the land office, if any, the person applying should be told that within a certain standard period, the title should be ready.
There is no reason as to why one should take months or years chasing a land title. All the processes can be given timelines especially those that involve government or elected officials.
If the land committee is to visit the land to ascertain ownership that must be given a timeframe that when you ask them to visit, the visit should be within a timeframe beyond which one can raise a complaint.
Many people also suffer from the Urban Authorities in getting their building plans approved. I have had cases where people approach me to cause KCCA to expedite the process of approving their building plans.
Why should an Urban Authority like KCCA or a Municipal take long in approving a building plan? If the application has issues then the applicant should be informed in a time well known, for instance, it should be clear that if such an application has issues, then the applicant should be responded too in say one week.
When all that is required from the applicant is done with, then he/she should know that within say two weeks or one month, the plan should be approved or rejected. The current situation is that it takes forever to get plans approved.
What I have pointed out above should apply to all government departments involved in the issuance of licenses of all kinds, whether it's a mining license, NEMA approvals, etc.
There are also complaints that NIRA staff delay to give National Identity Cards to the applicants and in a process start asking for bribes. There is someone who applied for an ID in May last year. Up to last week, this person had not yet got the ID.
The person had been referred to the NIRA office on Lumumba Avenue it's there that the person was being tossed around. When this person rung me, I connected with Col Moses Mwesigwa of NIRA to reign on their staff.
The question then is why should it take someone over seven months to get an ID? In this new year, the minister for Integrity should play a leading role in ensuring that all government departments that deal directly with the public give timelines within which a service should be delivered in accordance with the NRM manifesto.
This way you will curb the frustration people get in delayed services and the corruption embedded therein.
The writer is a senior presidential advisor on political affairs