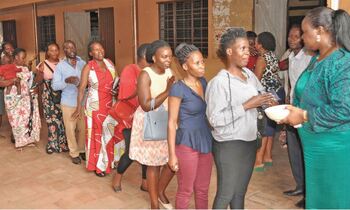 People lining up to receive anointing oil from Pastor Teddy Bugingo of the Word of Salvation Church at Bat Valley Theatre on Thursday. Photos by Shamim Saad

Touching is how I can describe Pastor Teddy Naluswa Bugingo's sermon at her church, World of Salvation at Bat Valley Primary School. I arrived at the Church some minutes to 1:00pm.

Inside the fence, most people were in a hurry, running late for the lunch hour service that started with intercessory prayers at 11:00am. Before I could access the auditorium, a female guard in plain clothes politely stopped me and checked my bag.

I could hear the singing as I approached. Than I saw her; senior Pastor Teddy Bugingo, dressed in a turquoise green dress, with a matching lace jacket. She was getting onto the pulpit. She had a cold, so she was not audible enough.

I got a prime sitting space with a good view of the pulpit and the entire congregation. The building had over 70 people, mostly women in there late 30s. The few men also looked old. Most people had Bibles, a pen and paper. At the pulpit, there was a black piano, but it's sound was not so distinct.

The speakers were at a low volume. The service was in Luganda. Bugingo was confident, as she depicted a mastery of Bible verses. She moved from 1st Kings 17:17, to Psalms 107:20 and than Jeremiah 33:3, which reads: "Call to me and I will answer you and tell you great and unsearchable things you do not know."

"I do not know whom you have been calling when you get problems," she told the congregation. "It could be your sister, neighbour or friend. But, remember, even those people have problems. And they might even discuss your issues! Just call on to God's name, He will answer you!" Teddy preached.

Probably drawing from her own experience, she advised the congregation to seek God whenever there is a storm in there lives. She referred to Hannah in the Bible, who ran to God when faced with a storm of a childless marriage and she was given a son, who even turned out to be a prophet.

"I do not know what you are going through, it could be poverty, illness, unemployment or anything. Just talk to God. Before you know it, those who used to laugh at you will be watching you on TV, in awe," she said, to a thunderous cheer.

She also had a story to share. A man in Mubende badly wanted to go to the US but failed to get a visa. He was disappointed that he decided to use the money he had saved for the ticket to start up a business. "Right now he is a moneylender and he has buildings in Mubende," she said.

"You could be here travelling to the Middle East as a maid and you are going through hell. Just pray to God, he will lift you and get you out of that housemaid job. You will become a businesswoman who will be travelling abroad for holiday," she pronounced, to another thunderous clap.

Whenever the congregation applauded her, she went on preaching and, probably, that was why she went on beyond 2:00pm when the service was supposed to stop. Her message was full of hope. Even I, who went to write a story, was moved.

Throughout her preaching, she did not refer to her story or background as testimony, unless the congregation guessed by implication. Her teaching was delivered calmly without exaggerations. Her voice was husky, but her body language communicated. She did not just move up and down with a microphone; she moved a step and went back to her Bible.

She did not come off as showing off. When the service ended, she first prayed for those who came with there tithe and offering. Than she prayed for those who entered God's house empty-handed. Lastly, she prayed for the anointing oil and blessed all of us.

We took about 20 minutes smearing anointing oil on our heads and legs. When she was done, she left us with a special request: "Please invite friends to come for the service!"
Pastor Teddy praying for the olive pomace oil shortly before anointing people during the lunch hour service on Thursday

Than we went in to interview and below are excerpts

Congratulations on launching your church. Is it a calling, lifestyle or business?
The ministry has God's intervention. I received two dreams about this church. The first one, a Bible came from up and entered into my bag. It was so believable that when I woke up, I started looking for the Bible, but it was not there. A month later, I had another, where I saw an expensive golden car in front of me.

When I looked closely, I saw my three-year-old son smartly dressed, seated in the car. Immediately, a golden key got into my hands and I heard a voice commanding me to press at the back of the key to open the car. I pressed, and the car opened. It did not open like other normal cars!

It opened from the roof and I got inside. However, I had nowhere to put the key because the steering was not there. While I was confused, the car started driving itself and took me to a big congregation.

That congregation was also shouting that we want to go where that car is going. When I woke up, I consulted different pastors, like Pastor Jessica Kayanja and my brother Charles Kyuma, who is an intercessor. They all pointed to starting a church.

I went into fasting, asking God to continue talking to me. I have been a pastor for nine years, but this was different.

So, how is your church run? Do you have a board of directors or you are the overall owner?
This is a church, it is not a company. I do not need to have board of directors, but I have people I am working with.

Does this mean you are done with Pastor Bugingo?
Let us leave those issues in the hands of God.

But if he came back to you, would you take him back?
Our God is a God of restoration and reconciliation. We have to forgive and forget. Yes, if he repents, I will take him back. And I am telling you this: just expect a mega comeback! The Bible says if you do not forgive, you will never be forgiven. I do not want to go to hell because of not forgiving. And I am neither single nor searching; I am a married woman who is also a responsible mother, who does not just neglect her children.

But if he returns into your life, will you chose your church?
This church is God's work, not mine. I will first hear from God.

Bugingo is in court. He wants to divorce you. Why have you refused to sign his divorce papers?
Until death do us part! I practice what I preach. Besides, God hates divorce. If I go ahead and sign those divorce papers, it means that if any of my church members goes through a storm, divorce will be the first thing they will think about. And I will have no moral authority to stop them because I also did it.

However, your husband said 'Until death do us part' is not biblical!
Let him use his brains to interpret the Bible. He should read 1 Corinthians 7:39: "A woman is bound to her husband as long as he lives. But if her husband dies, she is free to marry anyone she wishes, but he must belong to the Lord". And also Matthew 19:4-6.

Was it a surprise that Suzan Makula was moving out with your husband?
Not really. I first caught wind of it when I found her in his office and the door was locked. I asked him why he locks doors when he is conducting a meeting with female workers, and he did not seem like it was a big deal.

When we got home, we agreed that he would never do it again. However, after a few days, I got a rumour that they had spotted them in Jinja, swimming and eating fish. I ignored it.

One day, a Salt Media manager was fired for saying that he was in love with a worker. I decided to pay closer attention. I realised that whenever I would go to the station, the woman would avoid me.

Other people also started commenting about there relationship, there lunches together and I asked him about it. He always denied it. He even called a meeting and made it clear that he can never fall in love with a worker.

However, as rumours piled and I always asked him, he became more defensive and even accused me of over interfering in his work. Eventually, they could not hide it anymore. I decided to keep silent because I did not want to destroy the image of the Church.

I prayed about it until God told me that I was against his work by keeping silent. When the right time came, I told the public.

Do you think you contributed to his cheating?
It is the devil's work. He gave a devil a chance the moment he started locking doors while meeting her in his office.

Now that she has taken him over, are you scared of her?
I am not! She is nothing. I have a mighty God and I cannot fear a human being.

Any advice to women who are in a similar quagmire?
My sister, be strong, there is no permanent storm. Every storm has a solution. You have to trust God because he has permanent solutions.