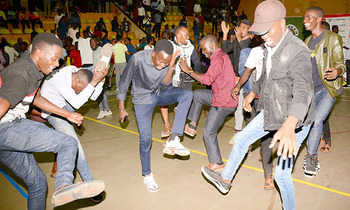 National Basketball League Finals
Game 5 result
UCU 54 Oilers 52 (O.T)
Today @ Lugogo
Game 6
UCU v Oilers
Young and often reckless the UCU Canons may be. But quitters they are not.
Game 5 of the National Basketball League (NBL) Finals yesterday at Lugogo asked everything of Nick Natuhereza's side but they responded, eking out a 54-52 win over the City Oilers in overtime to take the best-of-seven series to Game 6.
That is due today at Lugogo and obviously there will be fewer predictions about how it will go now that UCU have drawn second blood from the reigning six-time champions.
UCU came into Game 5 with the axe hanging over their heads and many expecting it to drop but the university outfit battled the champions, returning to the tactical and defensive tightness that brought them so much success this season.
Gone were the childish turnovers and the needless remonstrating with officials, at least from the players. And the result was a solid display that restricted the Oilers potent frontcourt duo of Landry Ndikumana and James Okello to 16 and 12 points respectively.
In the incredibly low-scoring but emotionally gripping affair, both teams finished an abysmal 20-for-77 from the field. Not that UCU, who were led by David Kongor with 20 points and 15 rebounds, will bother much about that.
Fadhili Chuma, part of the UCU team that pushed the Oilers to Game 7 in the 2015 Finals, snatched 13 points and 11 rebounds, rattling the rim with a roof-raising dunk in the third quarter off a beautiful pick-and-roll with the prodigious Fayed Bbaale.
The Oilers got 11 points from Jimmy Enabu, who drained the fade-away two-pointer that sent the game to overtime but missed a free throw with six seconds left in overtime that would have tied the game.
All this means is a delicately poised Game 6 that could see UCU push the series to an unprecedented decider.