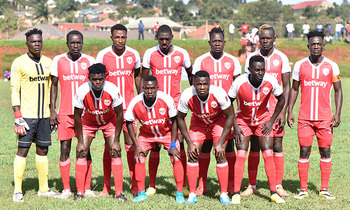 Express FC results (2019/2020)
BUL 1 Express 0
Express 1 Bright Stars 1
Express 0 Onduparaka 2
Mbarara City 2 Express 3
Express 0 SC Villa 1
Proline 2 Express 1
Express 5 Police 3
Kyetume 0 Express 1
Vipers 3 Express 0
Express 1 Jinja SSS 2
Wakiso 0 Express 3
Express 2 Maroons 2
Express 1 KCCA 3
Soana 1 Express 2
URA 0 Express 0
Jinja SSS 2 Express 0
Police 6 Express 1
The fans are furious. The coach's job, and perhaps his personal safety, is at risk. And the chairman, well, he is beginning to look like his predecessors.
Welcome to Express FC in 2020.
As Express slumped to a new low with a 6-1 loss to Police in the StarTimes Premier League two days ago, it was clear the club needs a reboot. Which in one sense is the problem, the reason why the club has not been able to make any progress.
From Francis Ntalazi to Florence Nikawala to Kiryowa Kiwanuka, Express has been a hotbed for revolution, new eras and bombastic promises but true change has failed to materialise.
Kiwanuka struggles
It was supposed to be different under Kiwanuka. The grandson of the club founder Jolly Joe and son of former club chairman Jimmy, Kiryowa waltzed back into the club's administration with a clearly articulated plan about how to restore the club's fortunes.
"I know the problems of the club very well," Kiwanuka told the press on his return, flashing that case-clinching grin.
More importantly, Kiwanuka returned with the aura of his reputable efforts as Uganda Golf Union chairman. He, um, led a successful revolution there.
He was expected to do the same at Ex, something he promised would start with fixing the club's coffers.
Sponsorship success
Kiryowa soon delivered as the club sealed mega partnerships with Equity Bank and Betway that collectively brought in over sh1bn into the club. Those deals were a testament to Kiryowa's connections and the club's undying brand strength.
Leadership howlers
All that was left was to appoint the right coach and administrators. In came club legend Kefa Kisala, handed a two-year contract at the start of the 2018-2019 season. He lasted six months in the job, a 2-0 defeat to - guess who? - Police sealing his fate.
In came an even bigger legend, with bigger coaching badges and an uncanny love for big players. George Ssimwogerere asked for time to build a winning side but the manager is blamed for undermining his own objective by letting nearly the entire team he found go, a team that included talents like John Revita and Mike Birungi, who are now thriving at KCCA and URA respectively.
Ssimwogerere clearly has a plan but it is not clear whether it is the right one or, more importantly, whether it will be given time. Express are 12th in the standings, with five wins from 17 games this season, and look no closer to ending their eight-year Premier League title-drought.
The administrative matrix
Then there are questions about the club's flabbergasting power structure, which includes an advisory committee made up of five units, the board of directors, club president Bbaale Mugera and club patron Prince Kasim Nakibinge.
Credit Kiryowa for successfully uniting all those divisions behind his vision. All, except - for now at least - the famed Red Army.