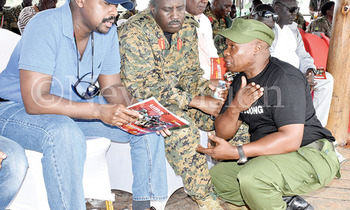 Motorsport governing body FMU president Dusman Okee backs the aspirations of independence by the Ugandan motocross fraternity and believes the FMU executive will endorse their request.
"If you have children and they mature and they say 'this home is too small for us, we also want to build our own homes and our own families', you can only support them," Okee narrated.
"So what motocross is asking for is not a divorce or a breakaway, it is to form their own federation and build their sport more and we actually appreciate that.
"They (motocross) have been our children and we have nurtured them and brought them to this level and now we need to see that they form their own federation."
Okee, who has been FMU president for the last four years and seeking reelection at next month's assembly, explained that several requirements must be met before an independent motocross federation is instituted but pledged his own backing and that of his executive.
"This is only the beginning of the process but for us as FMU and under me as president, this is a process we are going to help them through."
The initial requirement is agreement between the three motocross clubs -SMOC, UMX and Enduro - which was met when the trio met Saturday at Kati Kati and formally stated their desire for independence.
The second step will be for the FMU executive to approve of the request and present it to the general assembly for Okee says the executive will easily support it.
"The executive will not refuse because motocross have a very valid case," Okee explained.
"In my view, the executive won't have a problem with it."
The final word belongs to world body FIM international but Okee explained that their approval is guaranteed once the local authorities endorse the move and motocross fulfill legal processes like the formulation of a constitution and national competition rules.
Okee believes, "Ugandan motocross is ready to stand on its own and they can even find better sponsorships so we definitely support them".
Okee, however, added that the petition of said motocross clubs, also agreed upon on Saturday, that Barak Orland be retained as FMU deputy vice president in charge of motorcycling, cannot be granted now there are already three aspirants for the position.
"Barak wrote to me in December and said he is not interested in standing for election," Okee revealed. "So based on that other nominees came in. The rules and regulations must apply".