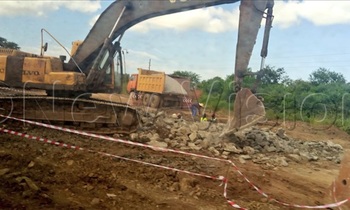 James Byaruhanga was employed as a casual labourer by the China Communications Construction Company (CCCC) in September 2018.
At that time, he had just completed pursuing a bachelor's degree in civil engineering at Ndejje University.
"In 2017, I did my industrial training from Entebbe Express highway which was being upgraded by CCCC. When I completed my studies, I applied for a job as a casual labourer at the same company. I was given an opportunity in September 2018, just a month before my graduation. I never looked down on the job I took it with two hands," Byaruhanga said.
Byaruhanga adds that a few months later, the CCCC opened up a civil laboratory. "While scanning for people to work in the department, I was identified as one of the potential employees.
Byaruhanga proudly asserts that he got the opportunity because he was a hardworking and passionate about the opportunity he had been given as a casual worker.
Byaruhanga star is even shining brighter after he was nominated among the 14 employers of the 2019 and awarded with a certificate as one of the best performers in 2019.
CCCC project
According to Fan Wei, the CCCC project manager, the best employees are selected from departmental good performers.
"We usually have the best departmental employees of the month. We pick out people who have stood out from the rest of the employees," Wei said.
Wei hailed the workers for contributing to the development and the smooth running of the project.
"90% of our employees are Ugandans. Our employees have contributed greatly through hard work and loyalty. We appreciate their services and we call upon them to continue with their consistent hard work to ensure the smooth running of the project," Wei said.
Meanwhile, Allen Nadunga who was awarded as the best chef of the year expressed her gratitude saying she has gained more motivation and determination to carry out her duties.
CCCC is currently upgrading a 159km stretch from Masindi through Paraa in Murchison to Tangi in Packwach district dubbed the MTP project.
The three-year project which started in 2018 is supposed to end in 2021. The project is estimated to cost $218m and supposed to end in 2021.