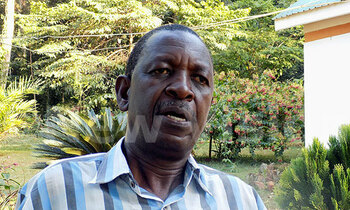 MURDERER CRIME
Director-General of Internal Security Organisation (ISO) Col. (rtd) Frank Kaka Bagyenda is expected to testify in case in which his son Brian Bagyenda is accused of murdering his 23-year old fiancée on Friday.
On Tuesday, Kaka was slated to testify in the matter but defence lawyer Ezekiel Nsubuga Mubiru said he was on special state duty prompting trial judge Moses Kawumi Kazibwe to adjourn the case until Friday when Kaka is expected to testify in the matter.
Kaka is said to have requested Butabika Mental Hospital to discharge his son earlier than scheduled dates.
Prosecution alleges that the Brian together with Innocent Bainomugisha and Vincent Rwahwire on January 13, 2017 killed Enid Twijukye and later dumped her body at Namanve Forest Reserve in Wakiso district. They have been on remanded since arrest in 2017.
It is said that Rwahwire and Bainomugisha were paid sh20, 000 and sh10, 000 respectively to tie up Twijukye with three pillow cases before she was killed.
Brian is said to have masterminded the murder of Twijukye for allegedly stealing his sh4m.
Dr Brian Mutamba, a consultant psychiatrist at Butabika Mental Hospital says that Brian was admitted at Butabika Mental Hospital on November 4, 2016 but he was discharged before completing his scheduled Physiotherapy treatment.
"Brian was suffering from a major depressive episode with suicidal anxiety symptoms," Mutumba says.
However, Dr Santon Ojala a police surgeon last week told court that he examined Brian on January 21, 2017 and he found him to be of sound mind with no physical injuries inflicted on his body.
Court documents indicate that Twijukye, a daughter of Wilson Tibegaya, a head teacher at Karobwa Education Centre died after being raped.
Twijukye lived with her sister in Namugongo, Wakiso district but she is said to have left home on the fateful day to visit her unidentified friend in Bweyogerere.
The following day the deceased's phones went off, prompting her mother to contact family members about her whereabouts.
Police recovered Twijukye's decomposing body in Namanve Forest after the family had reported her missing.
At the time of death, Twijukye was working at Capital Shoppers in Ntinda and was due for graduation at Ndejje University.