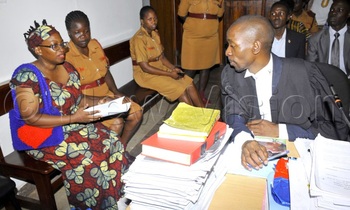 CYBER HARASSMENT|

KAMPALA - The International Crimes Division of the High Court in Kololo, has started hearing Dr. Stella Nyanzi's case in which she appealed, challenging her conviction and sentence over cyber harassment.

On August 2, 2019, the Buganda Road Grade One Magistrate Gladys Kamasanyu sentenced Nyanzi to 18 months in prison after finding her guilty of cyber harassment contrary to sections 24 (1) and 2 (a) of the Computer Misuse, Act, 2011, but acquitted of offensive communication.

On September 25, Nyanzi blocked Lady Justice Flavia Anglin Senoga from hearing her appeal.

Presiding over the case, Justice Adonyo informed the court that he had been assigned new duties at the Commercial Court though he heard the appeal of Dr. Nyanzi in Kampala on January 9.

Isaac Semakadde the legal counsel of Dr. Nyanzi, said they seek jurisdiction in the manner how the trial magistrate reached the ruling of the client's case at the lower court.

Semakadde demanded the interpretation of fairness of the proceedings because some of the witnesses in the case lacked competence in interpreting the cyber laws. He said currently the prosecution lacks interpretation of some of the statutory laws made by parliament.

He said the prosecution failed to adduce the location and country of the purported cellular phone used by Dr. Nyanzi at the time when the Facebook post was made.

He also added that the FaceBook Company, which has all the records of its clients was not consulted yet it has all the details regarding their clients, "A cyber offense is strictly location-based".

Nyanzi's appeal seeks the court to quash her conviction of an 18 months sentence for cyber harassment by the Buganda Road Grade One Magistrate Gladys Kamasanyu having found her guilty.

Her appeal is based on ten grounds, that lower court erred and entertained the case against her yet it had no jurisdiction.

She further vowed that the trial magistrate failed to properly evaluate the evidence on record and thus arrived at a wrong decision in convicting her.

The Directorate of Public Prosecution (DPP), is represented by two senior state attorneys, Timothy Amerit and Janat Kitimbo, too appealed from the same court and want Nyanzi to be convicted over offensive communication.

Amerit was presented in, told the court they will entertain any further written submissions apart from what they have in paperwork regarding two appeals 79 and 80.

The state entreaty is based on three grounds, accusing the lower court to have failed to properly evaluate the evidence on record thereby arriving at a wrong conclusion by acquitting Nyanzi on offensive communication thus leading to miscarriage of justice.