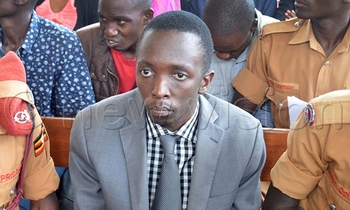 The trial of three people indicted with the murder of a 22-year-old student in 2017 including Brian Bagyenda, a son to Internal Security Organisation (ISO) boss Col. Frank Kaka Bagyenda has been pushed to Tuesday (tomorrow).

On Monday, trial judge Moses Kawumi Kazibwe was compelled to adjourn the case to tomorrow (Tuesday) after Prisons authorities forgot to produce the accused in court to stand trial as earlier scheduled.

Others accused are Innocent Bainomugisha, 24, a cleaner and Vincent Rwahwire, 28, a casual labourer.
Twijukye
Brian was arrested on January 18, 2017, after telephone print outs from the deceased's mobile phone showed that he was the last person she frequently called before her mysterious disappearance.

The prosecution led by Joseph Kyomuhendo alleges that on January 4, 2016, at Njobe Road in Nakawa Division, Kampala district, the accused and others still at large with malice aforethought kidnapped Twijukye and later killed her.

Last year, the Directorate of Public Prosecution (DPP) rejected plea bargaining in the matter after the defence lawyers led by Nsubuga Mubiru argued that Bagyenda was a patient at Butabika at the time when Twijukye was murdered.

Background
Court documents indicate that Twijukye, a daughter of Wilson Tibegaya, a headteacher at Karobwa Education Centre died after being raped.

Twijukye lived with her sister in Namugongo, Wakiso district but she is said to have left home on a fateful day to visit her unidentified friend in Bweyogerere.

The following day the deceased's phones went off, prompting her mother to contact family members about her whereabouts.

The Police recovered Twijukye's decomposing body in Namanve Forest after the family had reported her missing.

At the time of death, Twijukye was working at Capital Shoppers in Ntinda and was due for graduation at Ndejje University.