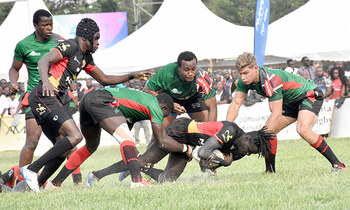 RUGBY
You could sum up the good of 2019 in Ugandan rugby through the achievements of Philip Wokorach, Ivan Magomu, and Aaron Ofwoyrwoth. The trio personified success with their all-round brilliance throughout the year, performing for club and country, standing out in the 15s and 7s versions of the sport.

Wokorach guided Kenya's Kabras Sugar to the Kenya Cup victory and was voted MVP while he was an exception for the Cranes whenever he played. It paved the way for his transfer to fourth division French side Bourges, where he quickly found his footing.

Ofwoyrwoth was brilliant for his club side Kenya Harlequins and his absences for the Rugby Cranes always left a gaping hole. His presence led to good things like his man-of-match performance in Uganda's 16-13 victory of Kenya away from home - one of the special displays of the season.

As usual Ivan Magomu was a delight to watch, marshaling the creative department for the Black Pirates as well as the Cranes with artistic abandon.



Not good enough

The bad of 2019, or at least most it, was supplied by the Rugby Cranes, who performed well below expectations in the Victoria Cup after finishing third, behind winners Zimbabwe and Kenya, failing to capitalise on the tournament-opening 16-13 victory over the Simbas in Kisumu.

The wheels fell off after the Kenyans bounced back with a commanding 16-5 win at Kyadondo, retaining the Elgon Cup in the process.

The Rugby 7s team also endured Kenyan pain after losing the final of the Rugby Africa 7s Cup, which doubled as the 2020 Tokyo Japan Olympic qualifier.

Women's activities were intermittent due to a shortage of funds and it is not clear whether women's rugby will return to its past glory. Certainly, something drastic needs to change for that to happen. The wrangles that are besetting the league competitions and the lack of organisation in the management of both the `15s and 7s sides require serious solutions, soon.

Champions roll

Credit still to the Thunderbirds for winning the six-team national women's league and national 7s circuit and certainly the Hima Cement Heathens, who lifted the 10 team Nile Special Premier Rugby League title.

The Betway Kobs had to settle for the Uganda Cup and National 7s Circuit championships although they would have really loved to end their three-year national title drought.


Poor school report

Rugby in institutions of learning continued to plummet, with less than 30 schools taking part in the Secondary Schools rugby league this year compared to the almost 100 schools that were playing the sport between 2009 and 2013. The university report card wasn't much better.

URU president Godwin Kayangwe has promised to prioritise rugby at the grassroots, among other development initiatives, but for now it is just a promise