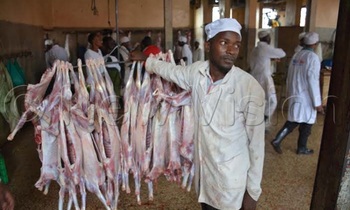 Hundreds of consumers who stormed city butchers for beef on the New Year have decried of high prices.

This is because beef prices within various city markets in the Kampala Metropolitan has hiked from sh8, 000 to sh12,000, which is a wholesale price and hence higher costs at retail.
Some of the hooves on sale at the Meat Packers, Industrial Area, Kampala. Photos by Douglas Mubiru
David Ssempala, a butcher and trader at the city abattoir, Old Port Bell Road in Kampala said there was no way they could prevent the rise since the demand was high yet the supply of cattle was low.


"Beef shortage is the reason why prices hike, yet the demand is high, hear at the city abattoir it's cheaper but downtown beyond the city it is approximately at sh14, 0000 a kilo," he said.

Ssempala urged the government to intervene, that the price of cowhides increases from sh500 to at least sh2,000.

"We used to sell the hides at sh3, 000 but now it is sh500, this also explains why beef prices hike. There is a need to protect consumers from high prices but we traders should also not be subjected to losses," he added.

However, the City Abattoir Traders Development Association (Catda) attributed the increase of beef prices to the recent quarantine on cattle in various parts of the country.

For chicken, the price was ranging from sh15, 000 to sh40, 000 depending on the size.

One of the chicken traders, Fredrick Mutyaba told New Vision that they had made profits from their sales and hence the festive season was more productive than the latter.


"We have made profits, and today more customers have turned up and we hope to travel to villages to buy more chicken for our clients for Easter," Mutyaba said.